Members at work
Add your voice – Nautilus member urges others to join the campaign on crew relief and repatriation in the Covid-19 pandemic
22 May 2020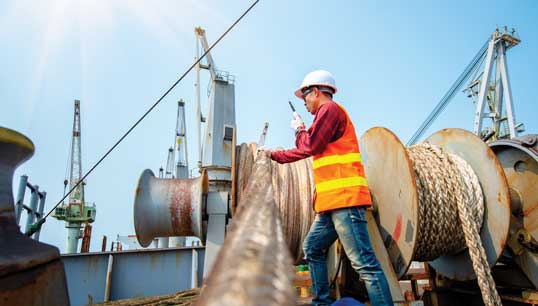 Like Kate Nicholls ('Pay attention to seafarers', May 2020 Telegraph), Nautilus member Mike Ridehalgh has written to his MP about crew relief and repatriation during the pandemic –helping his Union to keep up the pressure on the UK government. Sarah Robinson reports
Retired radio officer Mike Ridehalgh is a long-standing trade unionist who sat on the Council of the Nautilus predecessors REOU and NUMAST, and he wants to encourage other members to add their voices to the crew relief campaign.
His MP, David Jones, submitted a parliamentary question on the matter after receiving the letter below, but Mr Ridehalgh is not satisfied with the reply from Foreign and Commonwealth Office minister Nigel Adams: 'It's just a lip-service answer saying the FCO can assist if asked'.
He has therefore written a follow-up letter, and is also attempting to get a question into the government's daily televised coronavirus press conference.
'Anyone can do this,' he stresses. 'Just go to www.gov.uk/ask. The more questions we can have asked on the subject, the more pertinent it becomes – it's all about pressure.'
More help and our coronavirus resource hub can be found on our Assistance page.
We must not forget our seafarers; their families are too spread-out to effectively protest their situation, so something must be done at national level. Nautilus member and retired radio officer Mike Ridehalgh
Letter from Mike Ridehalgh to David Jones, Member of Parliament for Clwyd West
I have heard much about the repatriation of British nationals stranded overseas and appreciate their anxiety and the difficulties involved in achieving workable outcomes. I am, however, concerned at the plight of UK merchant seafarers seeking repatriation at the end of their tours of duty.
That no mention is made publicly of merchant seafarers and their plight is not, I hope, them being forgotten as they were in WW1 and WW2, when it took fifty years for our government to acknowledge their existence, let alone their wartime importance to our country.
The people we hear about are, in the main, stranded overseas due to their recreational preferences, not their work commitments as it is with our seafarers; the seafarers work in an industry which is crucial to 80% of our country's import/export transportation. They suffer a double whammy, in as much as before they can come home their companies must get reliefs out to them, equally difficult logistically in these uncertain times. Another whammy is that the majority of the ports worldwide will not even allow a walk along the jetty let alone transit betwixt ship and airport. The seafarers currently seeking repatriation work a ten hour plus day seven days a week and have likely already served a six-month tour of duty now facing a likely further six months of service without any consideration for the extra time.
The people they work for are, due to the failure of successive governments to properly support our ship owners, our seafarers or our proud Red Ensign, foreign registered companies flying foreign flags of low taxation countries, but the seagoing personnel are still UK citizens needing our assistance.
Additional to this is the companies concerned will not keep the relief crews on their books when they are not working, and when the time comes to find the relief personnel, they will have nobody available to provide those reliefs, which in turn will mean further delay for the people out there and an even longer trip.
In my days at sea I worked an average 10½ hour day, seven days a week, for as long as the trip took, both at sea and in port. When relief availability became sparse, the agreed four-month trip would become six or eight months without reference to or agreement by myself. I see no reason why this may have changed, and with the considerably smaller and multinational crews which has decreased social onboard contact, life is probably even more isolated and lonely.
Honestly, I do not know what the answer might be, but we must not forget our seafarers; their families are too spread-out to effectively protest their situation, so something must be done at national level. Please, I beg you, do not let them be forgotten as they were in WW2. They are our people who deserve our respect and support. I know what they are going through, I've been there; I've seen the family stress, experienced the failed relationships and the loss of friendships, hence my concern especially at this difficult time when they have few if anybody to support them and highlight their difficulties.
---
Tags