Salvors are worried about the challenges posed by the increasing complexity of containership incidents. Sandra Speares reports on the expert discussions at the annual ISU Associate Members' Day in London
'What's in the box?' continues to be a key question for the salvage industry when tackling large containership casualties – and the dangers faced by salvors and crews of vessels in distress were discussed in detail by International Salvage Union (ISU) delegates at the ISU Associate Members' Day in London.
Because ships were now so big, crew accommodation had been moved forward – closer to the danger zone, as hazardous cargoes were also loaded forward, warned Resolve Marine salvage master Nick Sloane.
Responders clearly wanted to maximise salved cargo after ensuring that crew were safe, he said. One method of preventing the spread of the fire might be a barrier of sacrificial containers, which would act as a fire break directly aft of any hazardous cargo carried. Portable barriers could minimise cargo loss, bearing in mind the high level of misdeclared cargoes, he suggested.
Bigger ships mean that whereas 'normally you can fight fires in weeks, now it can be months', Gert-Jan Langerak of Falck Safety Services said. While salvors aim to make the situation as safe as possible, he warned that it is also essential to keep different hazards in mind and not overlook the risk of gases, for instance.
Top level training was necessary to get people into confined conditions to extinguish fires in containers in cargo holds, he pointed out. 'We are not do or die people,' he stressed. 'We do safety assessments.'
Members of the ISU provided 224 services to vessels carrying 3.2m tonnes of potential polluting cargo and fuel during operations last year. There was a large increase in the number of containers involved in salvage cases – up from 45,655TEU in 2017 to 59,874TEU last year.
There was also a significant increase in salvage operations for vessels carrying crude and refined oil, totalling 1.3m tonnes against 933,198 tonnes in 2017, although bulk cargoes declined to 743,100 tonnes in 2018.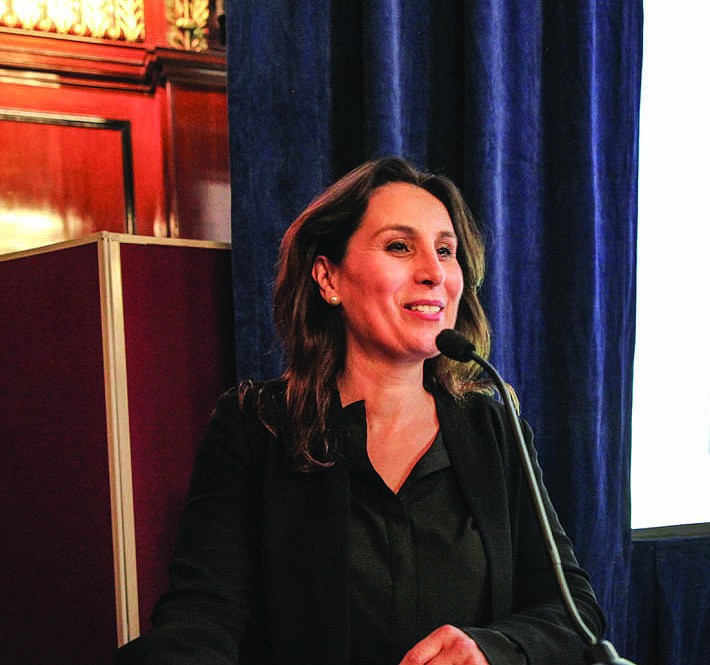 ISU president Charo Coll emphasised the role salvors play in protecting the environment, as well as saving life and property, and mitigating loss.
'We know that not all of these potential pollutants were at risk of going into the sea. Some cases will have been simple with limited peril, but many others will have carried a real danger of substantial environmental damage,' she said.
'One major incident can cause an environmental catastrophe with huge financial and reputational consequences. It is essential that there continues to be global provision of professional salvage services to respond professionally to maritime emergencies, and that needs appropriate compensation.'
ISU communications advisor James Herbert said there has been a change on the supply side of the industry, with a contraction in the use of Lloyd's Open Form (LOF). The ISU needed to communicate more widely about other ways of contracting salvage services, he told delegates. The industry was working in a 'new social paradigm' in which protection of the environment and natural resources has become a central element.
If the industry needed to re-position to reflect this paradigm, this was 'evolution, not revolution', he stressed, and the core salvage services of saving lives, property and mitigating risks remained the same. Salvors also have a role to play in keeping goods moving when they provide their services and are excellent project managers and engineers.

Nicky Cariglia of ITOPF, the International Tanker Owners Pollution Federation, said that while pollution figures might have declined, political intolerance of pollution incidents remained – while the expectation remained that products carried by ship would be delivered.
Another important issue was the potential harm from contaminants, which could be difficult to detect. Project management capability was essential following an accident, and while the use of salvors might be more expensive than shore-side response, the ability to manage situations was an important element, as was communication between the different parties involved in a salvage operation.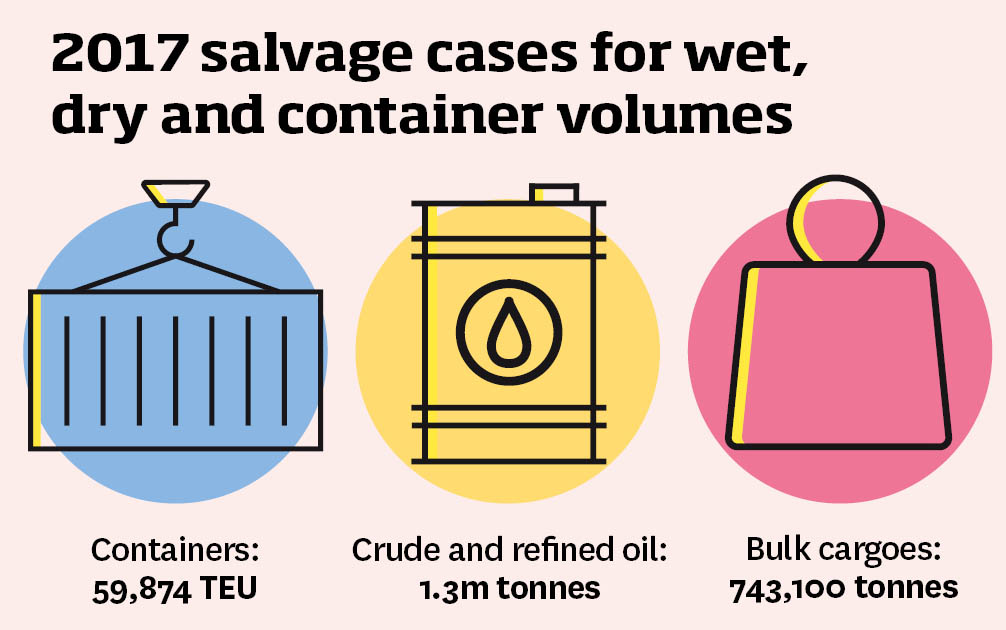 Ms Cariglia also highlighted the dangers of containership casualties and the potential impact of the new sulphur regulations due to come into force next year. There seemed to be uncertainty as to whether 'Sulphur 2020' would result in a greater risk of casualties as operators seek to comply with the new rules. There were also practical difficulties in places like the US because of the differences in legislative approach between the east and west coasts, she said.
The insurance industry is looking to 'push back' on LOF as its use as a salvage contract continues to decline, according to John Owen of Bernicia Marine Consultants.
As far as ports of refuge are concerned, he said, while the notion as outlined in guidelines is fine, in many actual situations the notion of a port of refuge is unlikely to work in practice, as many of the more notable casualties 'occur in the blink of an eye'.

Underwriters are looking to manage the situation as expeditiously as possible, he said, and casualties were now taking place with greater interference by social media. In the traditional casualty situation, handling the keys to a salvage contractor leaves the parties in a quandary because of the media involvement, he added.
He told delegates that everyone needed to work towards a common goal, arguing that LOF does not necessarily promote this concept. Collaboration and communication represented the way forward, although he acknowledged that 'too many cooks can spoil the broth'.
Members of the ISU provided 224 services to vessels carrying 3.2m tonnes of potential polluting cargo and fuel during operations last year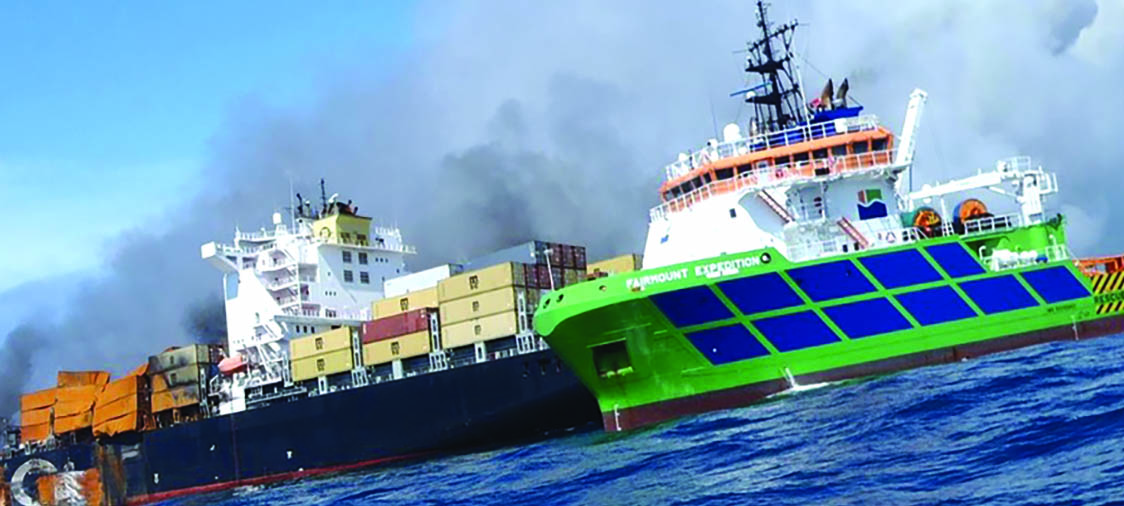 The need for parties to cooperate in the aftermath of a casualty was emphasised by other speakers who described salvage operations in several big casualty scenarios.
Golam Sawar of Prantik Bengal Salvage and Diving stressed the importance of maintaining resources for use in national waters where local knowledge was key.
Richard Janssen of SMIT Salvage pointed out that in the case of the Maersk Honan, waste needed to be moved from Dubai to Sharjah for disposal, and therefore good cooperation between different authorities was essential. 'People just look at the LOF and forget what happens after the emergency response,' he said.
In a panel discussion about LOF from the cargo underwriters' perspective, Peter de Boissiere of RSA also stressed the size of vessels and the fact salvage services were liable to last a long time, with an increase in cargo costs as a result. Stephen Chapman of Ascot argued it was not a question of 'railing against salvors' but more about information and engagement. The panel believed that there was a case for a cargo representative being involved at an early stage in the salvage operation to ensure assureds understood the salvage process.
Another issue addressed was recruitment of personnel. Speakers considered the issue of attracting women to the salvage industry, and that there is an age balance that needs to be addressed, with a reluctance in the younger generation to spend long periods away from home.
John Witte of Donjon Marine said the fact that the number of casualties per year was falling was good news, but there were also fewer opportunities to train the next generation of salvors. Can a classroom replace hands-on experience? The answer, for Mr Witte at least, was 'no'.
---
Tags