Government
Covid-19: Nautilus presses Scottish government on relief crew travel, shore leave and keeping ports open
23 March 2020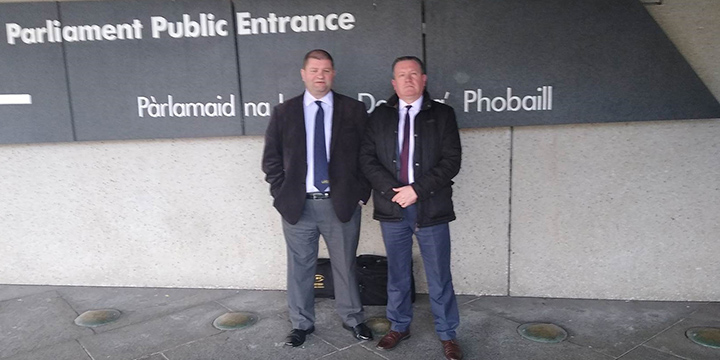 Nautilus and other transport unions have held a high-level meeting with the Scottish Government to urge special recognition of seafarers during the Covid-19 pandemic.
National ferry organiser Micky Smyth represented Nautilus at the 19 March meeting with Michael Matheson MSP, the Cabinet Secretary for Transport. Also present were officials from other transport unions and the Scottish TUC union federation.
Mr Smyth told the minister that special measures and exemptions for seafarers were needed so they could travel freely to join their ships and oil and gas platforms. It is essential, he said, that new crews can relieve their colleagues from working extra tours of duty which would impact on their health and wellbeing.
Seafarers' rights also need to be protected, Mr Smyth added, including payment of wages and provision of shore leave, and crews need to be provided with medical kits for protection.
'The fact is that seafarers in the transport sector need to be recognised as key workers,' he stressed, 'and we require the above measures as soon as possible.'
Mr Smyth reminded the minister of the importance of seafarers' work, given that 95% of all goods are transported by sea in the UK and 60% of all fuel comes by sea through the Scottish port of Grangemouth.
The critical Scottish ports of Cairnryan and Loch Ryan also need to remain open, he pointed out, so that P&O and Stena services can continue transporting essential goods between Scotland and the island of Ireland, particularly as the aviation industry has indicated that several airlines and airports may cease operations.
Both Nautilus and the RMT union are speaking every day to Calmac Ferries, Serco Northlink Ferries, P&O and Stena Line, he told the minister. Mr Matheson was unaware before the briefing that Stena had suspended its company sick scheme without consulting the relevant trade unions, and the he has asked to be kept informed of Nautilus's ongoing discussions with the employer.
Mr Smyth and the other union representatives present were given assurances that they would be updated daily on all modes of transport by Transport Scotland.
Nautilus members who have any queries or concerns about the Covid-19 pandemic affecting their work can contact their industrial organiser.
---
Tags