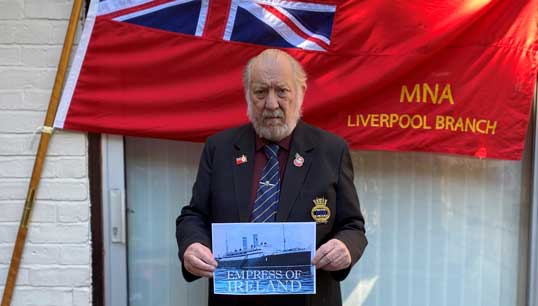 Tributes have been paid to Merchant Navy crew and passengers ahead of the 106th anniversary of the sinking of steamship ocean liner Empress of Ireland in what is often described as 'Canada's Titanic'.
Chairman of the Merchant Navy Association Liverpool Branch Bill Anderson has produced a video to mark the anniversary. He is himself a Merchant Navy Medal winner for his campaigning work on the cause of the loss of the British bulk carrier the MV Derbyshire.
In the video Mr Anderson recollects the night of 28 My 1914, when the Empress of Ireland set sailed from Quebec to Liverpool, just a few months before the outbreak of World War One. The vessel was in the St Lawrence River when it was struck by the Norwegian Collier SS Storstad, whicinto the third-class passenger accommodation below decks, and flooded the whole area out.
The Empress of Ireland had 1,057 passengers including 138 children, and 373 crew members for its ill-fated voyage to Liverpool. More than 1,000 people died in the incident, with many passengers and crew dying in their bunks from drowning.
'We will honour and remember this sad and often forgotten tragedy,' said Mr Anderson.
---
Tags