Education and training
Future-proof studies could produce more technologically-prepared officers
19 October 2018

Nautilus member NEIL HOBSON is a chemistry graduate who knows a thing or two about the coming developments in seafarer health monitoring. Currently in phase three of his cadetship at Fleetwood Nautical Campus, he argues for additions to the maritime syllabus to create more technologically-prepared officers...
The implications of advanced technologies for the maritime sector have been widely acknowledged and debated. And, as an article in the August Telegraph examined, information technologies and autonomous systems are all challenges in UK maritime education that need to be addressed in order to maintain high standards.
These direct changes to a mariner's responsibilities and new demands on their technical ability are rightly expanding the horizon of professional and academic discussions – and yet this attention is serving to obscure other, equally important, scientific advances that could be applied to the benefit of seafarers.
In my previous degree, studying chemistry, I researched microfluidic-based sensors. In recent years a diverse array of applications has been found for these sensors – from analysing the chemical contents of atmospheric samples to determining the proportions of hormones in human saliva samples. The latter could well find an application in shipping as employers seek to address the issues of fatigue, stress, and depression that exist within the industry.
When people have these experiences, there are quantifiable changes in their blood chemistry that can be measured with handheld sensors. There are also smart watches that, with the appropriate apps, can monitor heart rate, quality of sleep and overall health.
This technology is already being applied in landbased industries so that employers can monitor their workers for effectiveness as well as health.
The idea that a potential answer to fatigue and mental health issues lies in such a response could raise certain questions, but with the existing use of invasive technologies that can record entire conversations, it seems that privacy doesn't hold the same value that it used to.
With the cost of these devices being far surpassed by the cost of hiring more people to cover fatigued crew members, I believe it is only a matter of time before these technologies are widely used on ships.
Obviously, there are ethical and legal aspects to this that institutions, companies and the government need to address. Alongside human management skills, the use of these devices could give a comprehensive response to health issues at sea, and so long as the appropriate regulations are put in place, seafarers can be protected from companies looking to sell the data onto third parties.
From my personal experience studying the engineering route, and seeing the demands placed upon the lecturers and the colleges, these challenges may best be confronted by an innovative use of short courses and adaptive policies embedded into the STCW Convention.
Technologies that are concerned with human health and habits clearly require officers to have the technical and ethical training provided without extended stays at maritime colleges. There needs to be an effort to put the educational requirements in place, as well as an effort to take an industry-leading role in research and professional development – and the opportunity must be taken to listen to the opinions of the people who will be affected.
Perhaps time and money could be saved in the short term by making additions to the training record book to ensure cadets are at least aware of the ways technology can be applied for the benefit or detriment of seafarer health and privacy.
While I am training to be a marine engineer I would accept further courses and learning in both IT systems maintenance and seafarer health monitoring added to the syllabus.
It would make an already time-consuming commitment more strenuous, but if it led to more technologically-prepared officers I would be keen to undertake the additional workload. This is especially the case if there are corresponding health benefits, and improving job security, for myself, my future colleagues and the crews we will command.
Hormone sensors could be beneficial to seafarers, but they would need to be used ethically on well-informed crews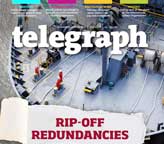 ---
Tags