Careers
Inspire a new generation of seafarers by volunteering as a Careers at Sea Ambassador
16 July 2019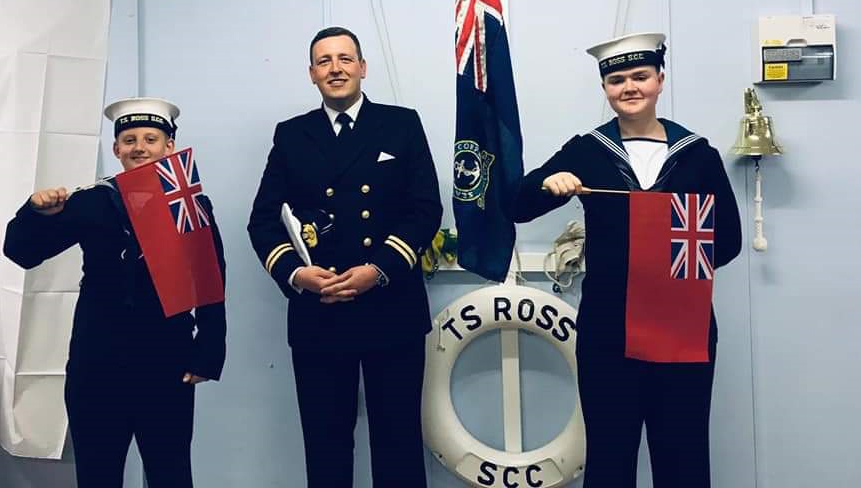 Numerous Nautilus members volunteer as Careers at Sea Ambassadors at schools and youth groups around the UK. Rachel Gurnett, the Ambassadors scheme coordinator at the Merchant Navy Training Board, explains why you should join them
Sharing stories and experiences is a huge part of how we communicate with each other. Wherever you go, you are likely to find people who want to tell you about the latest adventure they've been on, the great food they have eaten and the amazing places they have visited.
Through my experience with Careers at Sea so far, I have found it's no different to the way people talk about their careers. Stories are a powerful tool in engaging people's interest and giving them an insight into the life they have yet to experience; this is part of what the Careers at Sea Ambassadors do when they speak to young people across the UK.

I really enjoy hearing about the adventures and journeys that seafarers past and present have experienced. The variety is incredible: the crew they met, the vessels they were on or where in the world they were. So many people around the UK are unaware of the maritime industry and the career opportunities available within it. These stories and experiences help to highlight this fantastic industry and inspire more people to consider a career in the Merchant Navy.

I spoke to some of our Ambassadors about why they volunteer. James told me that he likes the reaction when he talks about how rewarding his career has been so far. He said there is genuine interest in hearing more about it. This is true for so many of our volunteers! Stuart talks about how he uses his long connection with the Antarctic to engage young people in the areas that really interest them. He says he volunteers as an Ambassador 'to repay the service that gave me a 43-year wonderful career'.
So many people around the UK are unaware of the maritime industry and the career opportunities available within it
Careers at Sea exists to support the industry in encouraging young people to start a career onboard Merchant Navy ships in various roles. The Careers at Sea Ambassadors are essential to the programme. Our Ambassador Mike explains: 'I am asked about what training is required, how to get to a job at sea, what is the salary and how you know where to go (geographically speaking).' Young people also ask what professional qualifications they can gain and what other careers can feed into a career at sea.

To help Ambassadors answer all these questions, we provide Careers at Sea materials and handouts for their visits to careers events, including the most up-to-date information on qualifications, routes and roles. But it's the brilliant volunteers themselves who make the biggest impact and inspire young people, teachers and career advisers alike.

I am very keen to recruit more volunteers to attend events where young people are looking to make a career choice. One or two a year could be enough to make a huge difference. Check out the pictures that show the kind of events that Ambassadors attend – careers fairs, presentations and groups. Ambassadors pick the events that are local to them and are of interest. James said that one of the reasons he volunteers is 'the thought that one day, a little insight from me may have led someone else into a great career'. Mike explains how this career offers opportunities for all types of people and that is why he wants to share his experiences at sea. Could you join and offer at least one hour a year?

If you are interested in finding out more and becoming part of the team, please get in touch. Your experiences, your stories and your journey throughout your Merchant Navy career could be the inspiration that sparks interest in the next generation of seafarers. Find out more at the Careers at Sea website.
Heather Enness: an Ambassador's view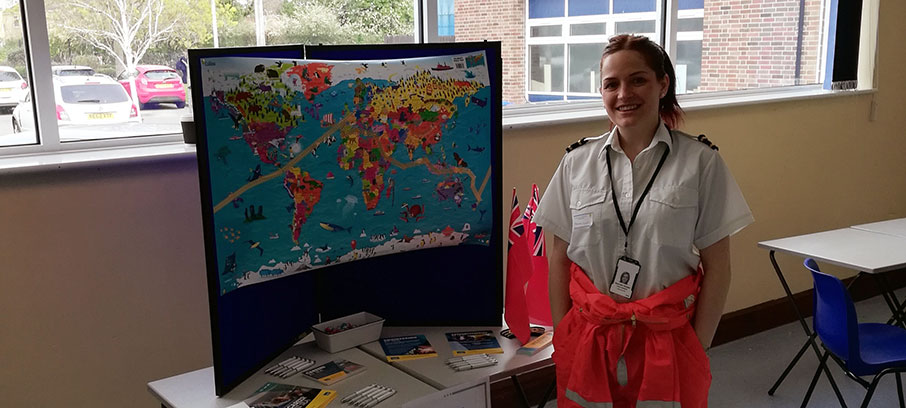 As I am a Careers at Sea Ambassador based very far from the sea in the West Midlands, not many visits get requested in the area. But that's OK as we are encouraged to source our own events from time to time, which is exactly what I did for my last event, and my upcoming event too. I did a quick internet search for 'career fairs in Warwickshire' and soon found that a local school was advertising an upcoming date, so I immediately got in contact and got Careers at Sea down on the list.
A few weeks later I found myself setting up my table, nestled between the Royal Navy and an NHS stand. People are always amused when they approach my stand as I 'dress to impress'. I look pretty ridiculous wearing half uniform and half bright orange boiler suit… but that does mean I stand out and they remember me and what I am representing!
The children – and some parents – I saw that day were amazed to hear there was a job that could present you with such opportunity, whether that be the travelling, the studying, the short courses, the pay or of course… the time off. They left with such a buzz.

I find that the people I meet have never really heard of the Merchant Navy – understandably so, as I was once just the same. That changed one day when I was at Plymouth University on a preview day for a course and one of the lecturers said: 'Take these sponsorship forms away with you and change from the Navigation course to the Merchant Shipping course and get paid for it and join the Merchant Navy instead of the Royal Navy.'

It's when you explain to the students that the game consoles they play on had to get to the UK from China somehow that they then make the connection and realise there really is a job out there for them.
I was approached by a fair few young women at the Warwickshire event, which was absolutely lovely. Some of them were members of the Sea Cadets youth organisation and seemed inspired when listening to the routes they could take to start a career in the Merchant Navy, so fingers crossed they do truly consider a career at sea.
My next careers fair is taking me back to my own old sixth form. This time, I'll be enticing the students in with a virtual reality headset, so they'll be able to step foot on the bridge of a platform supply vessel and see for themselves what it's like to stand on the main deck of the vessel. This will hopefully be something a little different for them to experience and might spark an interest that they didn't even know was there.
Even though I've not been a Careers at Sea Ambassador for long, I have loved doing these events purely to see the excitement in a student's eye. That's when you know you've inspired someone, and that's why I'll continue to do these events and represent my profession.
---
Tags