Members at work
Is the criminalisation of shipmasters following incidents now an occupational hazard?
1 November 2018

It has become so common for shipmasters to be arrested as criminals following an incident that this is starting to deter seafarers from rising through the ranks. ANDREW LININGTON reports from a Nautilus industry symposium set up to tackle the problem…
Criminalisation continues to be a huge concern among maritime professionals – and it is posing a big threat to recruitment and retention, last month's Nautilus Fair Treatment Symposium heard.
Expert opinion
A new survey carried out by the Union has updated the results of similar research undertaken almost a decade ago, and shows that 87% of seafarers are worried about the threat of criminalisation – slightly down from 92% in 2010.
Some 70% say the threat has an impact on their desire to remain at sea – up from 66% in 2010, said head of strategy Debbie Cavaldoro.
Presenting the preliminary findings of the survey to the meeting, she said it was clear that concerns about the risk of criminalisation extend across the world, and there appear to be an increasing number of court cases against crew and a lack of protection from companies. 'There are intense industry pressures, but no margin for human error,' she noted.
Around 15% of the 500-plus respondents reported that they had been directly involved in legal action – 30% of which involved civil action, 20% maritime administrative action and 20% criminal action.
Of those involved in action, about one-third contacted their union for help and around one-quarter were supported by their employers.
Survey respondents – who belong to the 19 unions in the Nautilus Federation – said they felt most likely to be criminalised as a consequence of pollution incidents. Three-quarters said they wanted to see more information about the legal rights and responsibilities.
Ms Cavaldoro said Nautilus is working to address this need and to provide more support to members on top of the existing 24/7 helpline, its worldwide network of lawyers, and the JASON advice and assistance scheme run in partnership with Nautilus Federation unions.
The Union will be launching a new mobile app, she reported, giving members instant access to advice following an incident, as well as facilities to record reports straight after incidents.
The symposium then heard from a panel of expert speakers who examined different aspects of the legal challenges faced by seafarers.
Seafarer scapegoating
Deirdre Fitzpatrick, director of the legal research centre Seafarers' Rights International, said criminalisation has been a high profile issue for more than 20 years and shows no sign of diminishing.
'Even if the chance of being involved in a criminal action is small, the perception is high, and that is why it is important to address,' she said.
Although there is no reliable data to show the scale of the problem, it is clear that typical cases arise from pollution, collisions, fatal accidents, shipwrecks and groundings, Ms Fitzpatrick said.
There are also a growing number of cases involving allegations of bribery, breaches of customs and security rules, drug and fuel smuggling, human trafficking and illegal cargoes - often in circumstances where seafarers are in unfamiliar situations.
She reminded the meeting of cases such as the jailing of the master of the tanker Prestige, the detention of the crew of the tanker Tasman Spirit and the imprisonment of the master and chief officer of the tanker Hebei Spirit. 'A common theme in all of these cases was a strong view that prosecutions should never have been brought and that seafarers were scapegoated and laws were unfairly applied,' she added.
A common theme in cases like the Prestige, Tasman Spirit and Hebei Spirit was that seafarers were scapegoated and laws were unfairly applied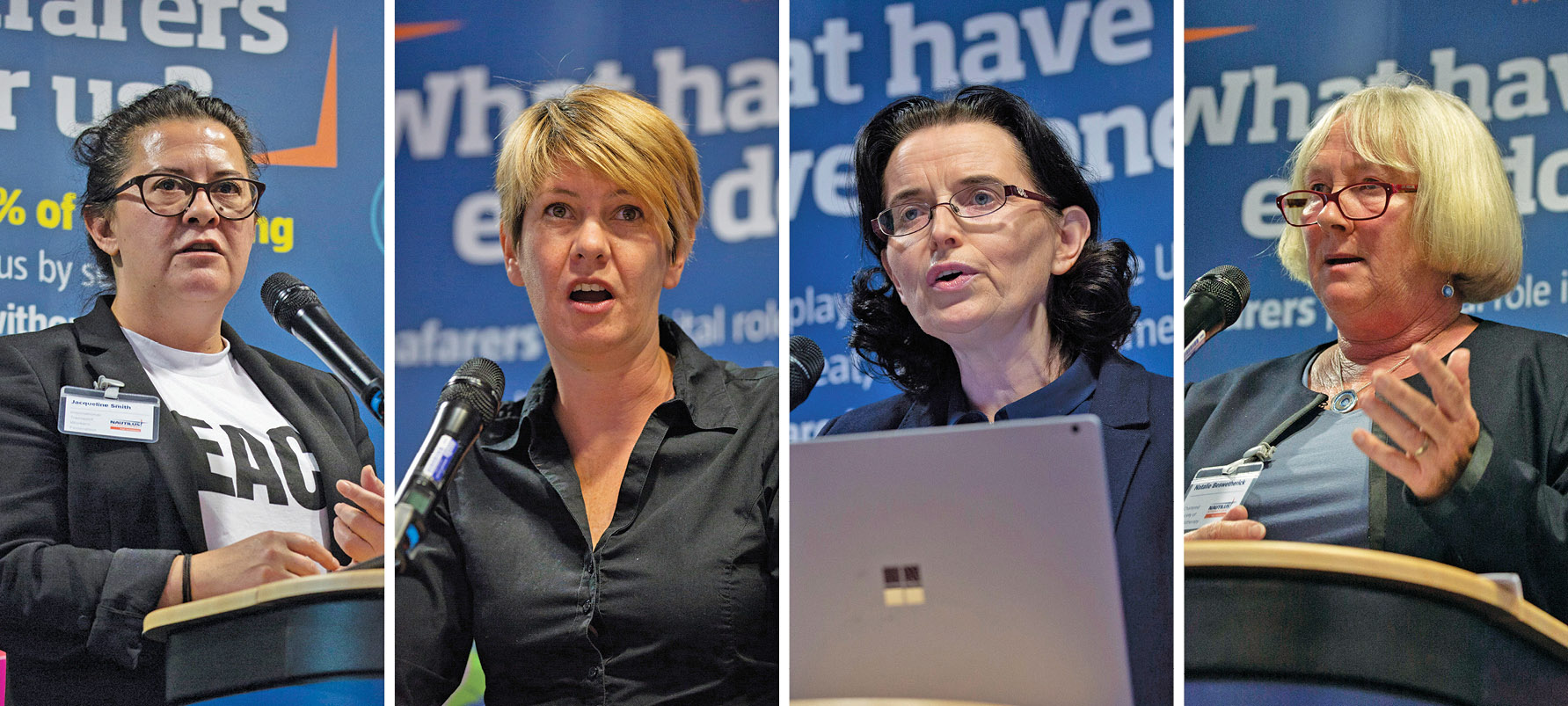 Ms Fitzpatrick spoke of the work being done to encourage countries to implement and enforce the international guidelines for the fair treatment of seafarers following maritime incidents. SRI had found that around one-third of major maritime nations had not done anything to bring the guidelines into their national legislation, she pointed out.
'Criminalisation still presents one of the greatest risks for seafarers on a daily basis,' she warned, 'and we have to continue to challenge the tendency for criminalisation and eradicate the attitude that seafarers are problems rather than solutions in such situations.'
More data needed
International Transport Workers' Federation maritime coordinator Jacqueline Smith highlighted the need to gather more data on the problems to better understand the nature of the risk.
'With proper information we could identify patterns such as the geographical areas or the countries where seafarers are most likely to be criminalised,' she argued. 'We could establish whether certain nationalities of seafarers are more at risk, or if the problem is higher with certain types of ships or certain flags and this could help us to focus our efforts on where we should be promoting the need for fair treatment guidelines to be incorporated into national law.'
Ms Fitzpatrick said the problems that seafarers face are exacerbated by the difficulties in finding lawyers who have adequate knowledge of shipping and maritime labour issues - with cases in which seafarers have been convicted where judges did not understand what a bill of lading is. 'Ignorance of the maritime industry can go up to the highest levels, and it is a really important aspect in defending seafarers,' she added.
Ms Smith said the ITF had identified a trend of increasingly complex legal cases involving seafarers, and there is a need to ensure that maritime professionals are given timely advice and assistance in such situations. Companies should also do more to support crews, she added, as they have a vested interest in resolving situations quickly.
Blame culture
Helen Kelly, from Lloyd's List, described the work done by her newspaper to reveal the widespread failure by many flag states to publish accident investigation reports. The resulting lack of adequate information about the causes of incidents helps to fuel the blame culture and the scapegoating of seafarers she pointed out.
Ms Kelly said that flag states had failed to provide 58% of all very serious casualty reports that should have been submitted to the International Maritime Organisation over the past four years.
Major flag states like Panama the Marshall Islands Liberia, and China have the worst records, she noted, and it is possibly right to consider the introduction of penalties for countries that consistently fail to publish accident investigation reports.
Natalie Beswetherick, director of practice and development at the Chartered Society of Physiotherapy, contrasted the harsh treatment of seafarers following incidents with the processes for dealing with cases involving the medical profession in the UK – with criminal prosecutions of medical practitioners being very rare.
Incidents involving physio-therapists and all other health care personnel – other than doctors and nurses are investigated by the Health & Care Professions Council, she explained. This will examine such cases as reckless or deliberately harmful acts, fraud and improper relationships with service users and will determine whether someone is 'fit to practise'.
Sanctions can take the form of being struck off or suspended from the register, conditions being placed on practice or a caution. The CSP provides medical malpractice cover for its 57,000 members, in the same way that Nautilus provides certificate protection and legal support for its members.
Failure to fully investigate
Ms Beswetherick said she was horrified by the way seafarers are treated, and she noted the multiple jurisdictions that maritime professionals can be exposed to. Incidents may often be the result of an error of judgement, she pointed out, and in cases where there is no intent it is wrong to bring a criminal case. The frequent failure to fully investigate shipping accidents is in sharp contrast to the approach taken in the health care sector she added. 'A full investigation can show systemic failures, and if you don't look at the full context of an incident it is deeply unfair. Sometimes it is the organisation that could be at part-fault because of things like a lack of investment or poor processes.'
Michael Lloyd said he believed seafarers had been let down by the International Maritime Organisation but general secretary Mark Dickinson said it was unfair to blame the IMO – which is currently led by a former seafarer – and the focus should instead be placed on flag states.
Malcolm Graves said it is usually a 'lottery' as to whether or not a seafarer will be supported by the employer after an accident. But Tim Springett, from the UK Chamber of Shipping said the owners would be keen to progress a 'social partnership' approach to promoting the adoption of the fair treatment guidelines by governments.
Ian Hampton, chief people and communications officer with Stena Line, said his company would always stand by its seafarers in the face of a 'toxic and contagious' blame culture. 'Unless we are able to identify the root causes, we will always have this fanaticism about finding someone to blame,' he added.
---
Tags