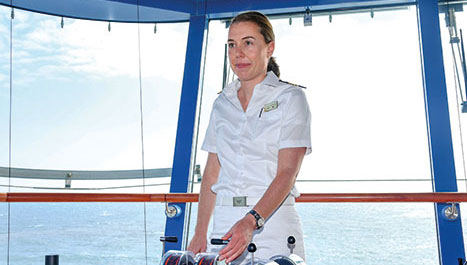 Nautilus contributed to a top-level meeting in March 2019 to develop a 'roadmap' for improving seafarer recruitment and retention practices across the global shipping industry...
In March 2019, delegates from more than 40 countries took part in a three-day International Labour Organisation (ILO) meeting in Geneva, convened to consider ways of addressing the wide range of challenges and issues that may dissuade some new entrants and cause experienced seafarers to leave the seagoing profession – including shore leave, training, sea time, criminalisation and social communications.
The meeting was presented with a report which warned of the need for action to ensure that the shipping industry heads off a potential shortage of quality seafarers – pointing out that 'recruitment of officers has reduced over recent years, particularly from "traditional" maritime countries'.
The report pointed to high drop-out rates amongst cadets during or after training and noted that officers serve an average of seven years at sea before switching to shore-based jobs.
Seafaring offers many positives, the report added, with opportunities for good pay, travel and long-term careers in the wider maritime sector.
However, it said feedback from cadets had identified negative issues such as difficulties with multicultural interaction, safety, security, workload/stress, discrimination, harassment, and loneliness.
Delegates agreed that these issues need to be tackled, and that there should be a 'creative approach' to 'attract a sufficient number of quality new entrants and retain experienced seafarers – including women seafarers and other under-represented groups'.
Promoting decent work and good practices, and addressing problem areas will help to ensure that there are sufficient qualified and motivated seafarers in the future, they noted, and there should be zero-tolerance of harassment and bullying.
We are confident that together with the shipowners and the governments, the Union will be able to continue improving prospects for all seafarers with a solid set of recommendations behind us
The meeting stressed the need to provide more training berths, noting that the International Convention on Tonnage Measurement of Ships serves as a disincentive to build ships with additional accommodation.
It also called for a 'human-centred' approach to automation in shipping, pointing out that 'reskilling, upskilling and new skills are essential to ensure the sustainability of the sector'.
Delegates highlighted the importance of action to reduce loneliness and isolation at sea, and to improve social media and internet connectivity.
Seafarers should be given access to independent, confidential helplines and professional counselling to help with anxiety, stress and depression, and new forms of networking amongst younger seafarers should be encouraged, the delegates agreed.
They also stressed the need for governments to meet their responsibilities on issues such as abandonment, piracy and armed robbery, criminalisation and shore leave, and to support training and retention with programmes such as subsidies or tax incentives for training.
Nautilus international officer Danny McGowan commented: 'An intense week of discussion and debate moved the whole industry forward in how women can be attracted to work in the maritime industry and to maintain excellent careers at sea and ashore.
'It was encouraging to see further progressive discussions and agreement on how to recruit and retain people vulnerable to discrimination – including LGBT+ seafarers,' he added. We are confident that together with the shipowners and the governments, the Union will be able to continue improving prospects for all seafarers with a solid set of recommendations behind us.'
---
Tags