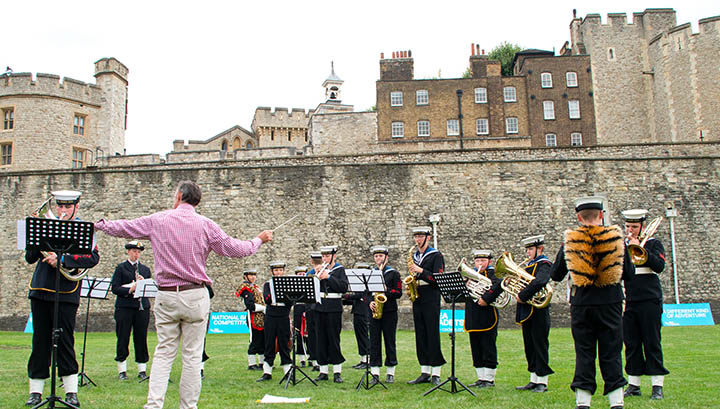 The sounds of the sea rang out at the Tower of London on 3 August 2019, as Sea Cadets from across the UK assembled for their National Band Competition.
Held every two years, the competition is a festival of music, marching and spotless uniforms, enthusiastically supported by the participants' friends and families.
One proud parent in attendance at the Tower's West Moat was Nautilus member Stephen Ashdown. His 15-year-old son Matthew is part of the Torpoint Sea Cadets in Cornwall and plays both the piano and saxophone to a high standard. He was chosen as one of an elite group to perform an original composition at the Tower of London by another young member, Leading Cadet William Louch.
Stephen was himself in the Sea Cadets youth organisation as a boy, in the Plymouth Drake unit. He enjoyed the maritime skills he learned there, and decided to pursue a sea career. He initially thought of following his father into the Royal Navy, but eventually chose to take the Merchant Navy route, as he was after something a little more informal and thought the promotion prospects were good.
After a cadetship with P&O Nedlloyd containerships, Stephen worked his way up to chief engineer and is now with Serco Marine on the Devonport tugs. He also volunteers as the treasurer for Matthew's Sea Cadets unit, and is looking to take his involvement with the youth charity a step further.
'You do what you can to fit volunteering around your job,' he explains, 'and there are some roles where you don't need to be there every week – like when I go in every now and then to talk about Merchant Navy careers. Now that I'm not deepsea, though, I've been able to commit to the treasurer role roughly once a fortnight – and think I can offer more, so I'm training to do some teaching on the engineering path of the Sea Cadets' qualifications.'
---
Tags