Members at work
Superyacht first officer Lindsey Jessop talks polar bear lookouts and the growing need for Unlimited tickets
6 March 2020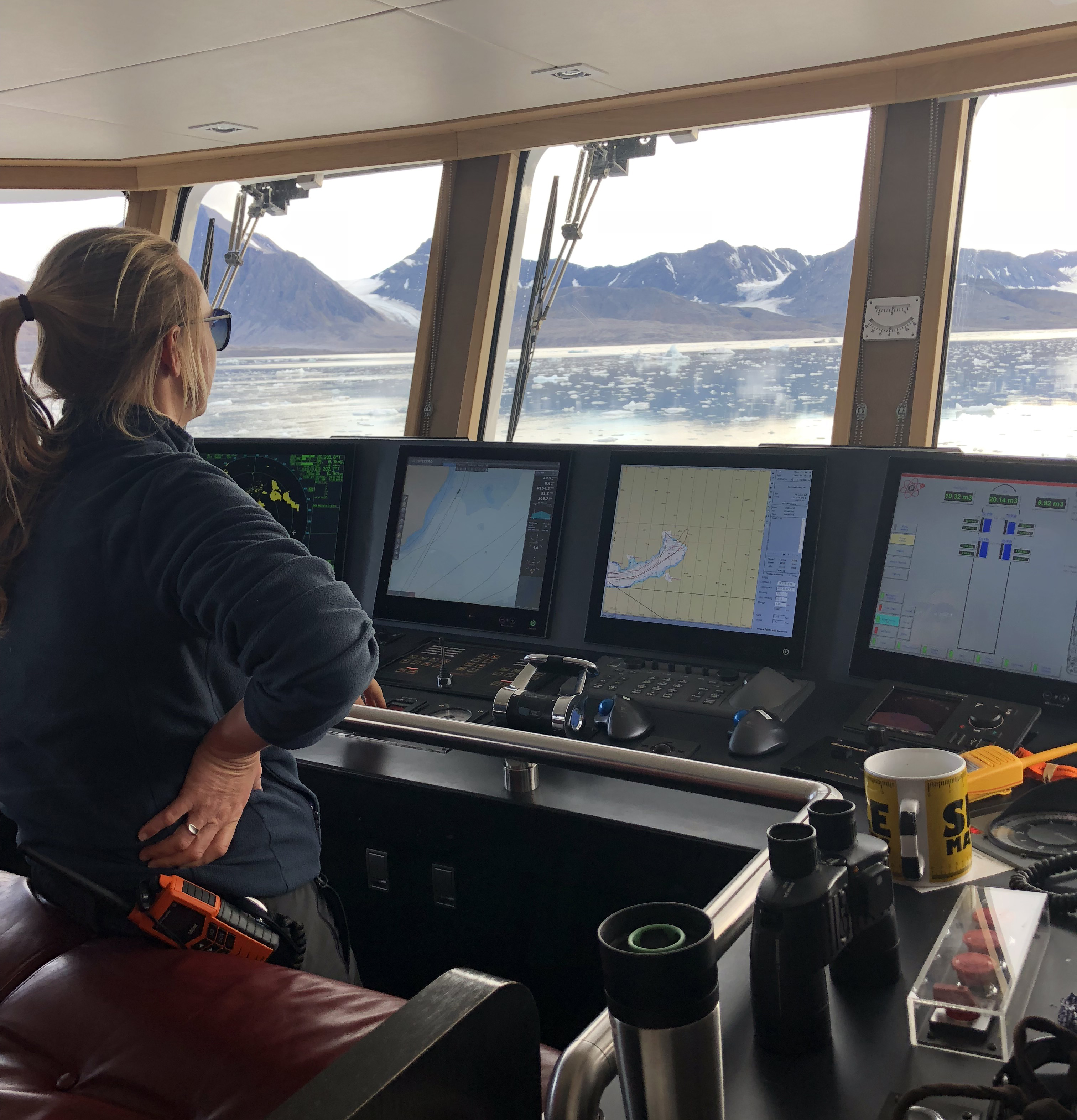 Being on the alert for polar bear in a rib was all part of the job for first officer Lindsey Jessop in her first memorable sailing to the Arctic. She discusses how important it is for superyacht crew wanting to advance, to be aware of all the tickets they might need, especially with the advent of larger yachts and the increasing need for unlimited tickets.
What is a typical day in your job?
Every day is varied depending on where in the world you are and whether guests are onboard or not. There is generally a lot of cleaning and maintenance, it's never ending! Then there is guest hospitality and entertainment which may include watersports around the vessel, perhaps arranging shore excursions or tender fishing/snorkelling trips. Checking weather, passage planning and clearances.
When there are no guests, the focus shifts to maintenance, paperwork, safety checks and drills, perhaps even planning an upcoming shipyard period, collecting quotes and confirming contractors. There is always something to be done.
Why did you choose a career at sea?
I was brought up in Greece, close to a marina when I was younger. My family spent many holidays sailing around the Ionian islands where I learnt the basics. In 2012, I completed a course and worked as a flotilla skipper for the summer. After this I was hired as crew for a seven-week Atlantic crossing on a 44ft catamaran to St Maarten – a leap of faith that resulted in me finding a position on my first superyacht – a 35m sailing yacht.
I did not train as a cadet. This option seems to be aimed at high school leavers. I went to University and graduated with a degree in European Business studies and Spanish.
I worked in the business world for six years and travelled extensively across the UK, Spain and Dubai to meet with clients. I spent time around harbours while away which re-ignited my interest in yachts and resulted in me pursuing a four- month Yachtmaster Offshore course which kickstarted my career in the industry. Over the years I continued to progress first to Office of the Watch 3,000gt and then Chief Mate 3,000gt.
Tell us some of your career highlights so far – and challenges
Sailing to Svalbard in the Arctic is by far the most memorable summer I have spent on a yacht. It was the experience I had been looking for since joining the industry. Nothing can prepare you for the effect on the senses, wearing layers of clothing to keep out the cold, listening to the sound of ice crackling all around, watching glaciers calving while on heightened alert and looking out for polar bears sitting in a rib!
Living in a small shared cabin with bunk beds does begin to take its toll after a while.
I have been frustrated on occasion with my responsibilities versus those of male counterparts. At first, I was generally asked to 'let the boys deal with tenders and watersports', while I was to focus on keeping the deck areas clean and tidy. I have had more emphasis placed on my responsibilities to bridge paperwork and accounts, not that I minded, it's just different.
Once I completed the Chief Mate 3,000gt ticket and I wanted to move to larger vessels I noticed there were hardly any positions available for women in first officer/chief mate roles. Most of the time jobs were advertised for men only, sometimes it was stated due to cabin arrangements. Once offered a position I made sure I excelled since many jobs are word of mouth and I was very proactive in my approach to get hired in the first instance.
Sailing to Svalbard in the Arctic is by far the most memorable summer I have spent on a yacht. It was the experience I had been looking for since joining the industry Lindsey Jessop, superyacht first officer
How can women be made to feel welcome and retained in a career at sea?
I do believe things are changing there are more female deckhands, officers and captains around. Retention is a problem on yachts generally, but rotation helps this as you have a better work/life balance. Some larger vessels are implementing appraisals and onboard training programmes, which ensures all crew get the same opportunities thereby improving morale and in turn providing a more welcoming and supportive working environment.
What are the best things about your job?
I personally enjoy working with people from different cultures and speaking different languages. You do also get to see some spectacular sunrises and sunsets at sea.
Would you recommend seafaring as a career?
I would recommend seafaring as a career, I have seen some incredible places in the world, met some amazing people who will be friends for life. I think it's important to start young as many people look for a career change after around 10 years. There are opportunities for seafarers moving ashore, however many require a commercial background. Understanding this at the beginning of a career may help people make better informed choices. Yachts are also getting larger and therefore require Unlimited tickets. There is currently no conversion available, for example, from a yachting Officer Of the Watch (OOW) 3,000gt ticket to an OOW Unlimited qualification so it's important to know this when starting out.
I am now trying to make the transition back to a shore-based position. I am ready for a new challenge professionally but also crave more stability. I am incredibly driven, thrive on learning and need goals to strive towards. Therefore, I believe now is the right time to make the transition and invest my time working towards a new chapter back onshore. As to what role or company? Watch this space.
Tell us one thing that people may not know about your job
People don't understand the difficulties of working, living and socialising with the same people in close quarters for months on end. Those that succeed will be resilient and have the patience of a saint by the end!
---
Tags