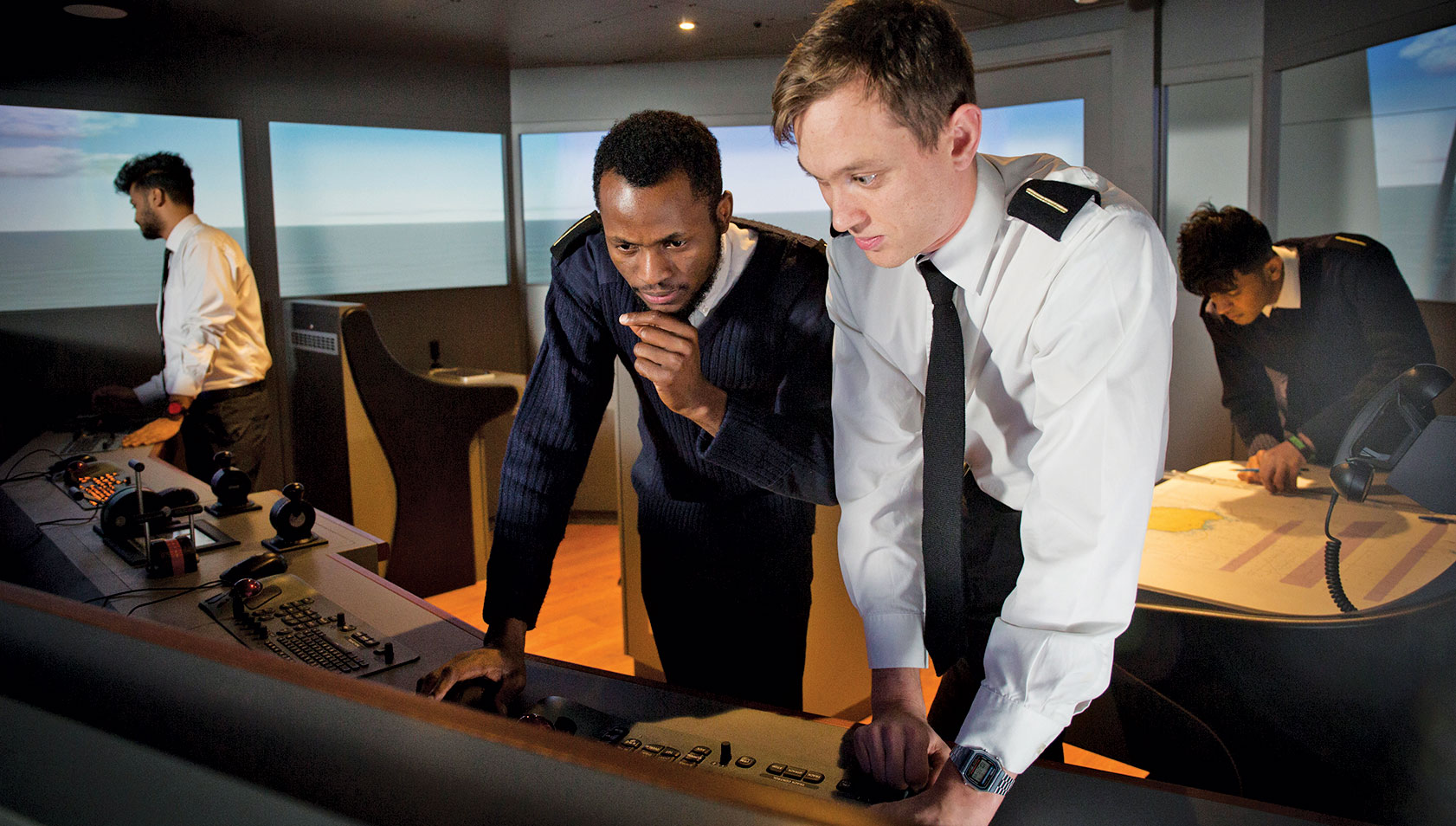 Many UK officer trainees are struggling to cope financially whilst also worrying about their future career prospects, a new Nautilus report reveals. The Union says the findings should serve as a wake-up call for shipping companies and the government…
Major improvements in UK cadets' pay, conditions and training experiences are required if the shipping industry is to retain the talented new generation of officers it requires for the future, a new Nautilus report has warned.
Feedback from officer trainees gathered by the Union shows that significant numbers are struggling to cope financially and more than one-third are uncertain or worried about their future career prospects.
Many are concerned about inadequate pay rates and question the rationale for reducing pay while at sea.
A significant number called for better support for female cadets, and several cadets complained about instances of racism, homophobia and sexism that they had encountered onboard ships.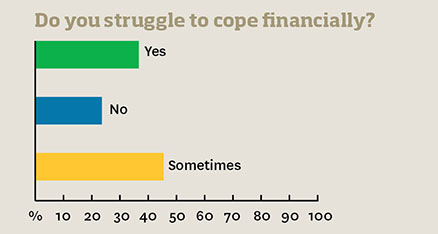 There were also a considerable number of negative comments about the quality of training at college – including large class sizes, disorganisation, and a lack of adequate preparation for the first seagoing phases.
The results of the survey, completed by some 250 UK cadets currently in training, update previous research conducted by the Union in 2004 and 2010, providing a long-term insight into the experiences and views of officer trainees and giving a deeper understanding of the factors which affect cadets' perceptions of their career choice and, in turn influence retention rates.
All phases of the cadet training programmes were included within the responses, and participants were studying at all the main maritime colleges in the UK, as well as at the National Maritime College of Ireland.
The cadets were engaged with a wide range of training providers, including schemes run by individual operators such as Maersk, Shell, BP Maritime Services, Carnival UK/Princess Cruises, James Fisher, the Royal Fleet Auxiliary, Carisbrooke, Vroon Offshore, Boston Putford, Pritchard-Gordon Tankers, and North Star Shipping.
Others were training through programmes organised by industry bodies such as Trinity House and the Maritime Education Foundation, or agencies such as Anglo-Eastern UK, Clyde Marine, Chiltern, V.Ships, Viking Recruitment or SSTG.
They ranged in age from 17 to 53, with the overwhelming majority aged between 19 and 23. A significant number had worked in other jobs before taking up their cadetship, with previous employment including accountancy, avionics, banking, catering, commodity trading, project engineering, mechanical engineering, chemical engineering, electrical engineering, plumbing, telecommunications, leisure management, retail/sales, the armed forces, the police, construction, and offshore geophysics.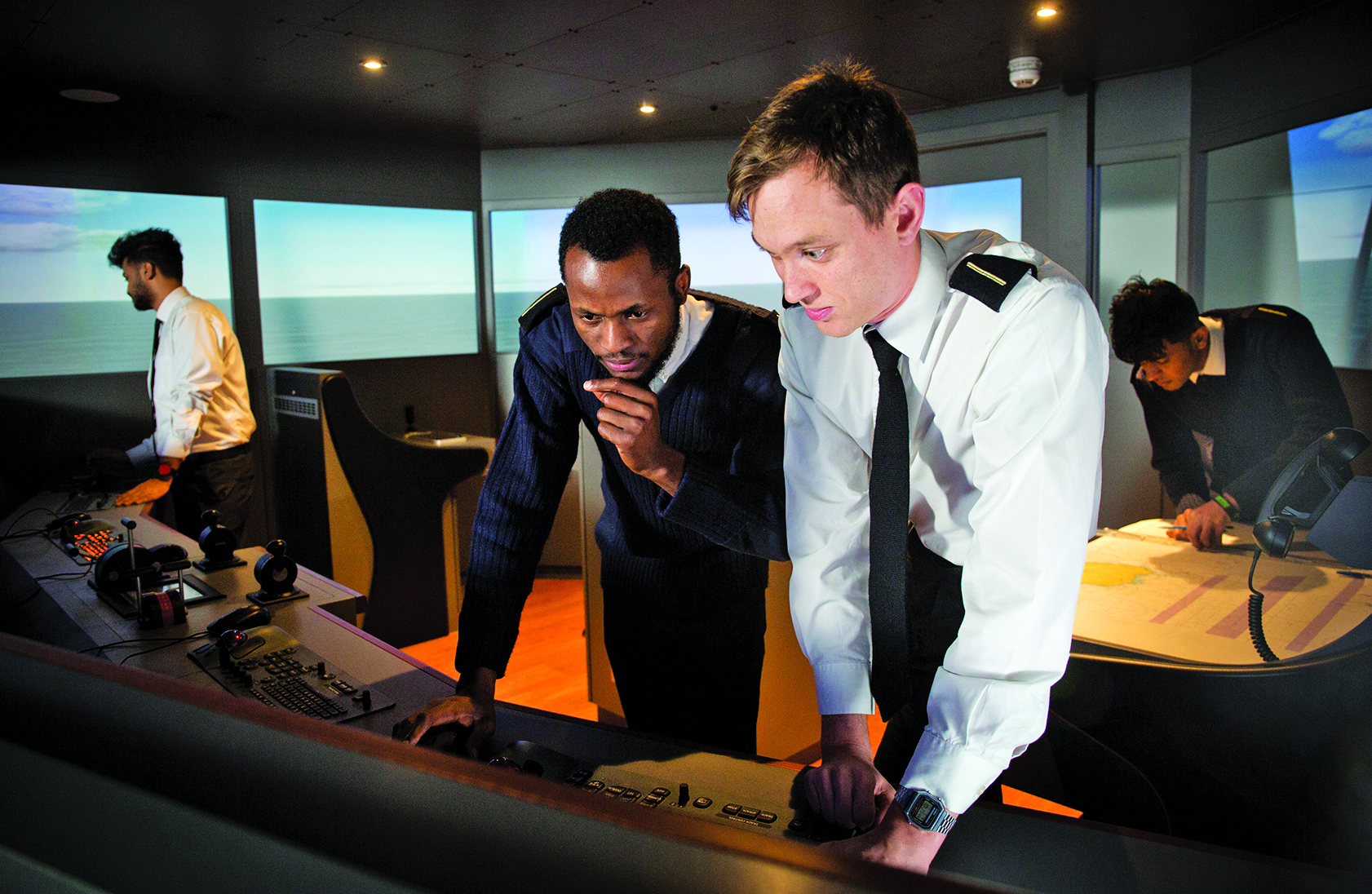 A considerable number had previous maritime experience, including work as a rating, onboard catering, watersports, workboats, port services, sailing and superyacht crewing, and in various roles working on ferries and cruiseships, including as a photographer, entertainer steward and nursing officer.
The most common reasons for having chosen a seagoing career were:
travel/seeing the world
structured career path/career progression opportunities
friends/family at sea
variety of work/not a 9-to-5 desk job
good pay/tax-free salaries
love of the sea/engineering
no tuition fees
leave periods
challenging/interesting work
quality of training
engineering experience
Sadly, for several decades now, the annual UK cadet intake has fallen well below the levels that have been identified as necessary for the future sustainability of the UK maritime cluster. It should therefore make sense for companies to nurture cadets in a way that encourages their retention and progression to officer status
On the plus side, almost 87% said they were pleased with their choice, with many seeing positive long-term prospects in the wider maritime industry – although a large number voiced concern over competition from low-cost labour supply countries, the lack of guaranteed employment after gaining OOW certification as a 'tonnage tax' cadet and uncertainties arising from Brexit.
Overall, just over 62% were optimistic about their future career prospects, with just over 16% pessimistic and 21.5% unsure. Back in 2010, 75% were optimistic, 18% pessimistic and only 7% were uncertain.
The survey showed slight improvements since 2010 in the quality of training that cadets consider they are receiving. Just over 58% rated the quality of training at college as good, 35% adequate and 13.5% poor. In 2010, 49% rated their college training as good, 37% adequate and 13% as poor.
Just over 47% rated their at-sea training as good, almost 25% as adequate and 19.6% as poor, compared with 44% good, 36% adequate and 14% poor in 2010.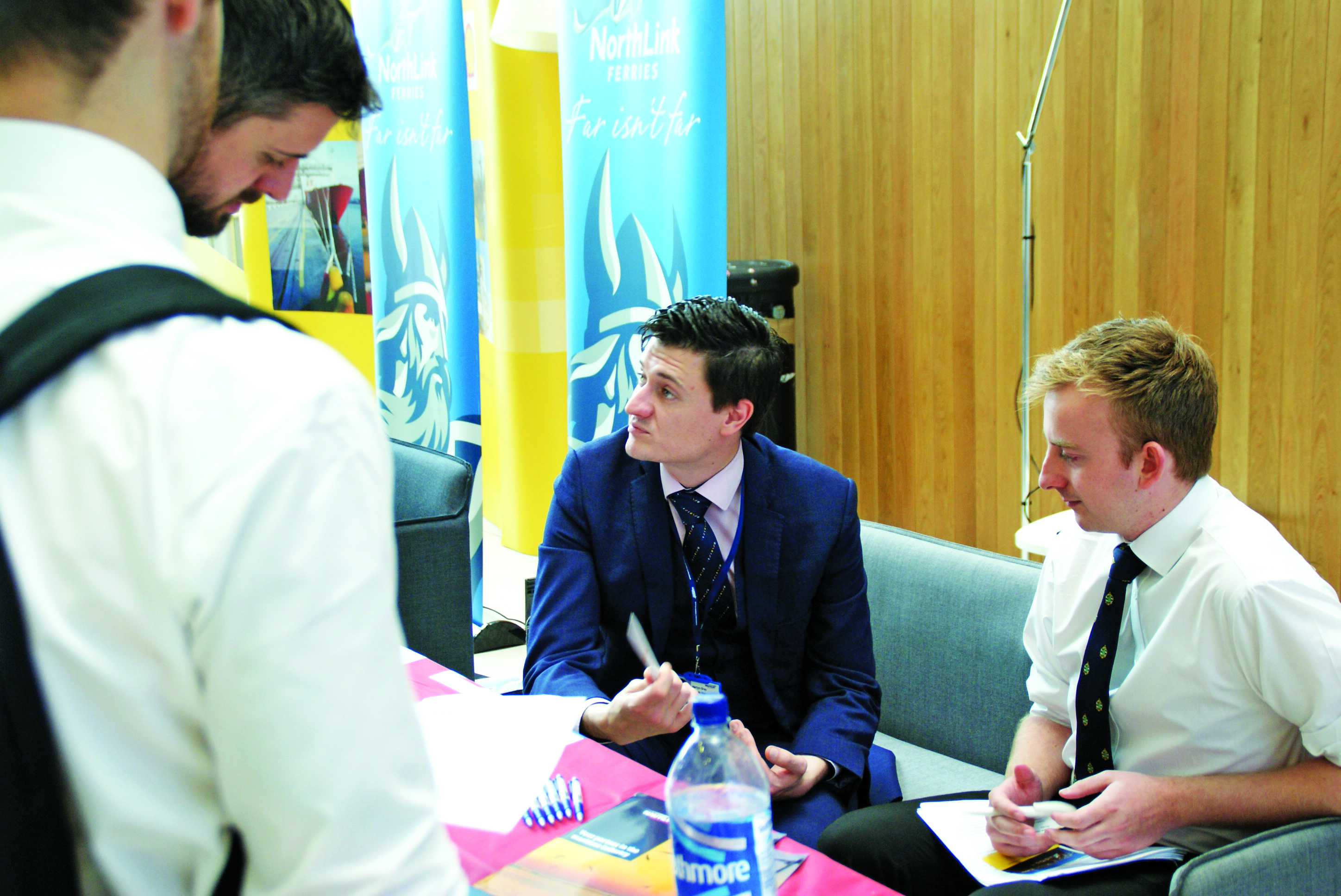 The survey showed that 54% of cadets had experienced problems or issues with their training record books – the most common being:
unsupportive/uninterested officers
lack of clarity in the instructions for tasks and reports – in particular with the navigation and operations workbook language/comprehension problems involving foreign officers
certain tasks not suitable for certain ships
some outdated/irrelevant tasks
lack of clarity over the standards to be achieved
time pressures in completing tasks and securing signatures
As with the previous surveys, the latest research showed wide variations in cadets' terms and conditions and considerable disquiet about the low level of pay. Some cadets complained about being paid less than the National Minimum Wage or less than apprentices on similar training programmes.
The latest survey showed that cadets' pay rates have not increased significantly since the report while their accommodation and living expenses have risen substantially over the same period.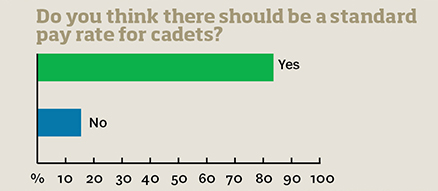 Monthly pay rates varied between £450 and £1,800, with the bulk being paid £600 to £762 a month while at college and £400 to £514 a month while at sea.
Four cadets said they were not being paid and three reported that they were paid £450 or £500 a month, but only at sea.
Almost 83% said they believed there should be a standard pay rate for cadets, and almost 93% said rates should be raised annually in line with the average increases awarded to other officers employed by their companies (compared with 75% in 2010 and 78% in 2004).
More than one-third of the cadets said they are struggling to cope financially almost 43% said they sometimes struggle and just under 23% reported no financial problems.
There were common complaints about the cost of college accommodation, with the bulk of cadets paying between £400 and £500 a month and many pointing out that this left them with very little money for food, study materials, travel, clothing and other living expenses.
The vast majority of cadets said their company paid no additional accommodation allowance, although 16 reported being paid accommodation allowances of up to £390 a month, or having their full costs covered.
Barely one-fifth of cadets rated the quality of their accommodation at college to be good, with just over 37% describing it as adequate and almost 21% as poor.
Just over 89% of cadets said their company covered the costs of exams and college fees, and the vast majority said they received no additional allowances above their standing training allowances. A total of 33 reported that their company covers travel costs at the start and end of phases and for holidays, six cadets said they received various forms of uniform allowance and 10 reported receiving allowances for medicals, vaccinations and visas. Five cadets said they received allowances for stationery and books, one was bought a laptop by the employer, and two said they could claim expenses with a direct link to their training.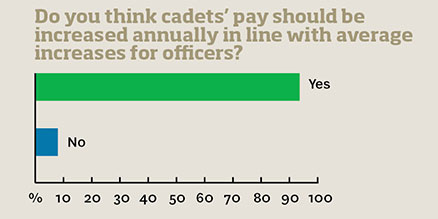 Almost 95% said they had a designated training officer and more than 90% knew who that was. Between 75% and 82% were confident they could approach their training officer to discuss problems at sea or at college, although fewer than 36% felt confident about discussing personal or family problems with their training officer. Overall, just under two-thirds felt that their training provider or employing company had their best interests at heart and were actively supporting them to obtain the necessary skills and experience.
Nautilus strategic organiser Martyn Gray commented: 'Sadly, for several decades now, the annual UK cadet intake has fallen well below the levels that have been identified as necessary for the future sustainability of the UK maritime cluster. It should therefore make sense for companies to nurture cadets in a way that encourages their retention and progression to officer status.
'We believe these findings are extremely important and should be used by the industry to ensure that cadet members receive the training and treatment they deserve as the maritime professionals of the future,' he added.
Improving cadets' pay would help to widen the demographic profile of officer trainees Mr Gray noted. After taking out the costs of accommodation, laundry and communications from the typical salary, many cadets are left with less than £100 a month for food, travel, clothing and socialising, he pointed out.
With current cadet training payments averaging around £8,147 per annum over 36 months of training, an average increase in sponsorship payments to cadets of some 27% would be required to cover minimum costs, Mr Gray said, and an increase of around 34% would be required to match inflation over the last decade.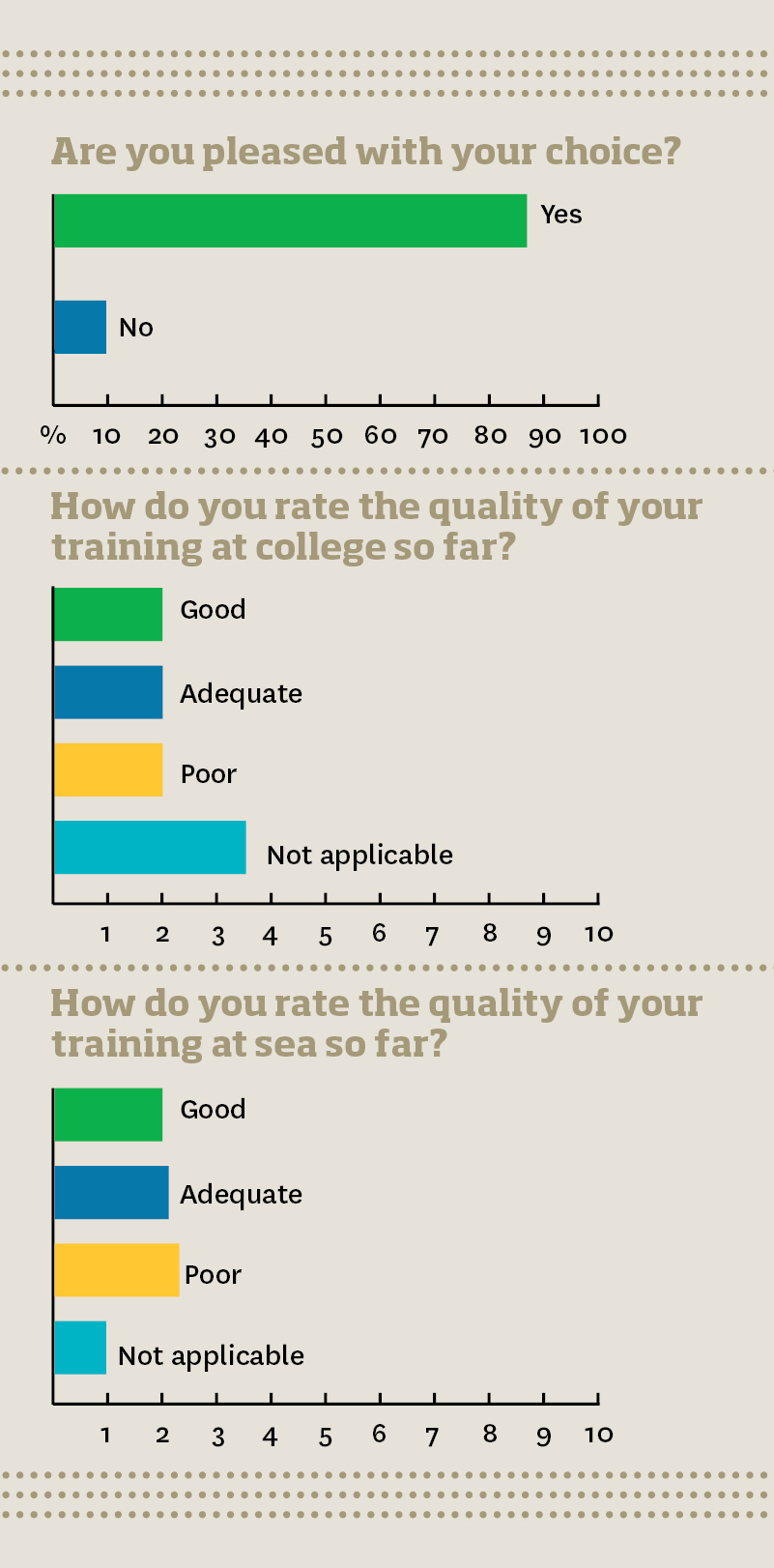 Nautilus will work with shipping companies, colleges and the Merchant Navy Training Board (MNTB) to progress the issues identified in the report Mr Gray added. The Union wants to encourage open feedback forums where constructive criticism can be provided and to identify issues as early as possible.
The Union wants to ensure that college accommodation and costs for ancillaries and extras are fair and reasonable, based upon the level of service provision, he continued.
Nautilus will also work with the MNTB and the Maritime & Coastguard Agency to address concerns about the wide variations in the standard of at-sea training, and the suitability of some ships to deliver appropriate training for UK cadets.
Mr Gray said the survey also showed the need for further action by the UK government to improve the policy framework for seafarer training and employment. In particular, he stressed, support for a UK cadet training ship with sufficient berth space and a possible incentive of enhanced seatime should improve consistency and training experiences for officer trainees
'Many institutions around the world operate such training ships, and these enable high quality maritime education to be provided to all cadets,' he pointed out. 'By investing in the future of its maritime sector in such a way, the UK would show an enhanced commitment to quality training and to returning actual investment to the UK taxpayer as opposed to the shareholders of the organisations currently a part of the tonnage tax scheme.'
---
Tags