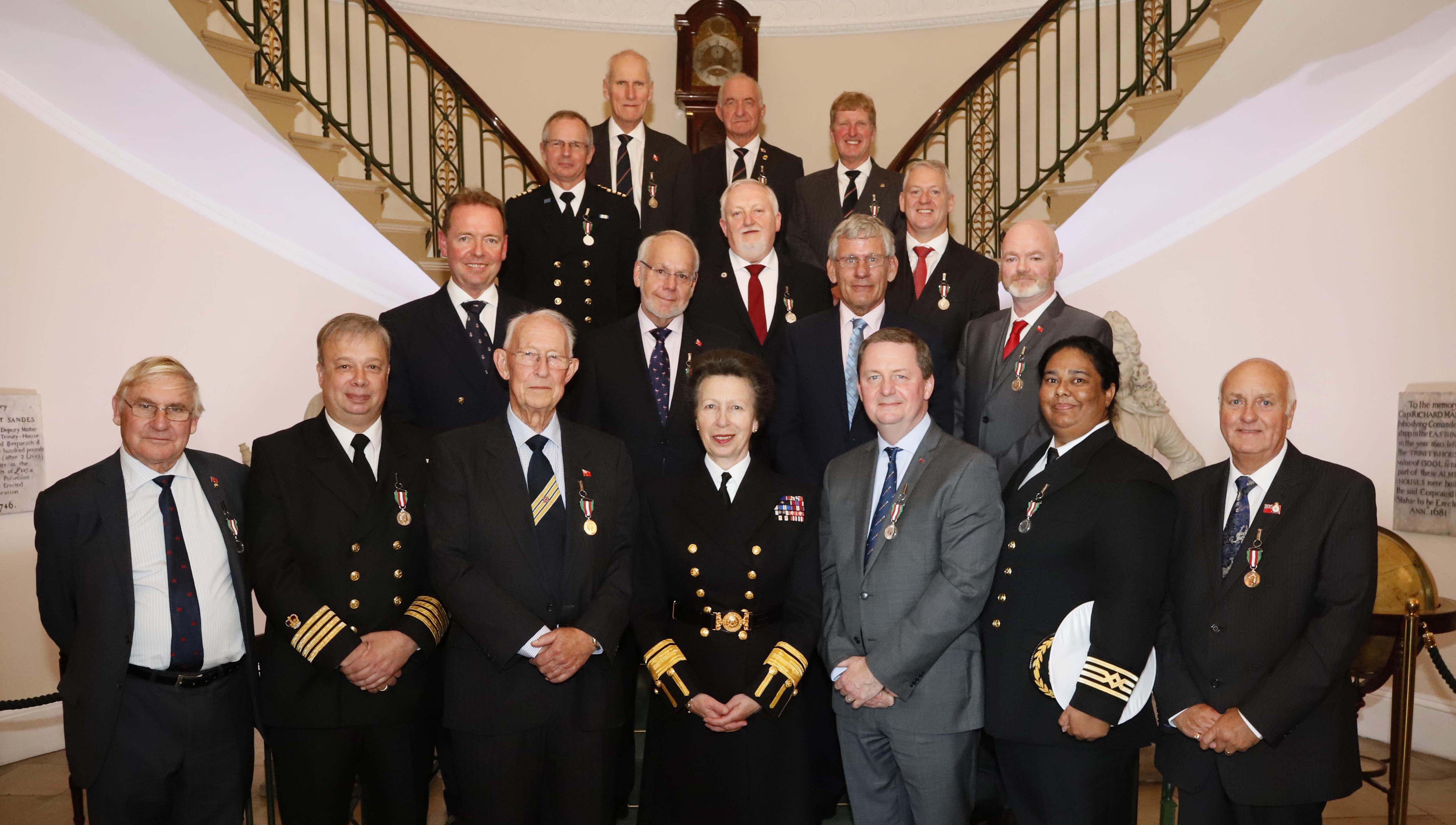 Nautilus members were represented in force among this year's awardees of the UK Merchant Navy Medal for Meritorious Service. SARAH ROBINSON reports…
The Merchant Navy Medal for Meritorious Service is British shipping's highest honour, and since 2015 has been a state award – part of the UK honours system with a place in the Order of Wear.
This year, there are 19 recipients, of whom eight are Nautilus members – including the Union's general secretary Mark Dickinson. The awards were presented on 26 September by HRH The Princess Royal at Trinity House in London.
'I was pleased to see so many of our members honoured,' said Mr Dickinson, 'and very proud to stand alongside them at the ceremony. On behalf of the Union, I would like to congratulate all the recipients and thank them for the work they have done for the maritime community.'
After the ceremony, the Nautilus members spoke to the Telegraph about their maritime careers and voluntary service that had been honoured.
Recipients' stories
Medal for services to seafarer employment, training and welfare
Mark Dickinson went to sea in 1978 at the age of 16 and has been involved in the Merchant Navy for 40 years. In 2009 he was elected as the general secretary of Nautilus International.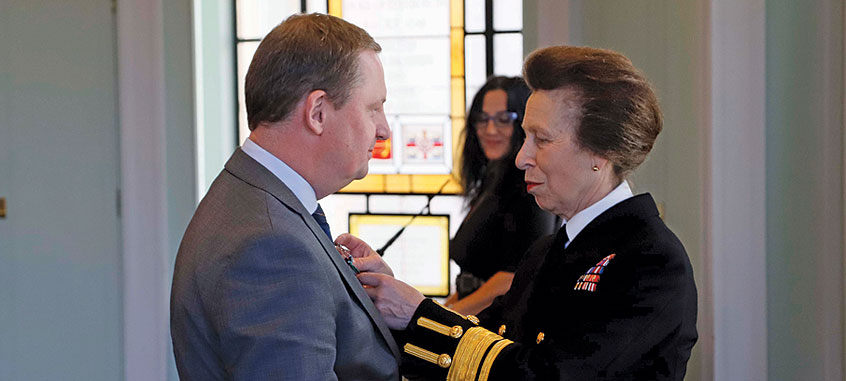 Mr Dickinson's career highlights include: leading a trade union mission to locate the wreck of the bulk carrier Derbyshire; being involved in the development of the Maritime Labour Convention, 2006 from concept to adoption; and promoting decent work for seafarers.
Medal for services to the promotion of the maritime sector
Captain Belinda Bennett is the first woman to have received the medal since it became a state award, and the first person of colour.
Capt Bennett grew up on the British Overseas Territory of St Helena, and started her career at sea in 1994 with an officer cadetship on the island's lifeline vessel RMS St Helena. Having worked her way up to second officer she transferred to Windstar Cruises, where she continued to rise through the ranks and too her first command in 2016. This, she says, was the proudest moment in her career, and she hopes other young women will see her doing her job and follow in her footsteps.
Medal for services to the careers of young seafarers and seafarer welfare
Lieutenant Commander David Carter was at sea in the Merchant Navy for 34 years, from cadet to master with 16 years in command, and worked on some of the largest gas carriers in the world, specialising in ice class LNG for the northern sea route.
Lt Cdr Carter is now the Royal Navy's Merchant Navy liaison officer and is active in safety, training and maritime charitable causes. Looking back at the highlights of his career at sea, he remembers an incident that showed his efforts to instil a strong safety culture onboard ship were paying dividends. 'After years of stressing the need for everyone to share responsibility for safety, I knew we were on the right track one day when a young Filipino crew member overcame his reluctance to speak up to authority and let me know my shoelaces were undone,' he smiles.
Medal for services to UK research expeditions
Captain Antonio Gatti started his career in 1984 with a Ben Line cadetship, and has worked for the National Environmental Research Council since 1992 – where his role in the British Antarctic Survey has included time on the celebrated research vessel James Clark Ross. Five years ago, he became the first master of RRS Discovery and his next tour of duty with the vessel will take him to the oceans off Brazil and Chile.
Capt Gatti described the Merchant Navy Medal as 'unbelievable – a great honour which acknowledges the value of the ocean research work we do.' He looks forward to continuing to promote science around the world.
Medal for services to maritime training
Captain Nicholas Nash is a serving master with Princess Cruises, and is also the president of the Nautical Institute and a Younger Brother of Trinity House. A training captain, he teaches bridge resource management and shiphandling at Carnival Corporation's CSMART Arison Maritime Centre, and has written numerous educational articles and textbooks.
Capt Nash said he was proud to be still at sea after 41 years, and that his example shows how far it was possible to rise in this industry after starting out with just O-Level qualifications. The two highlights of his career to date have been taking command of the Royal Princess and becoming president of the Nautical Institute.
I was pleased to see so many of our members honoured and very proud to stand alongside them at the ceremony Mark Dickinson, Nautilus general secretary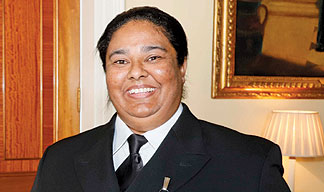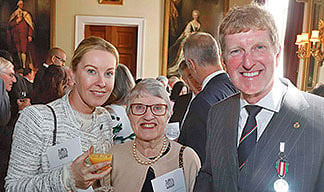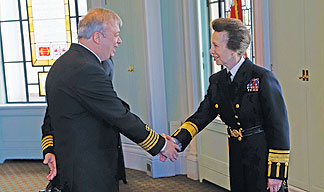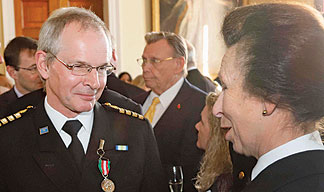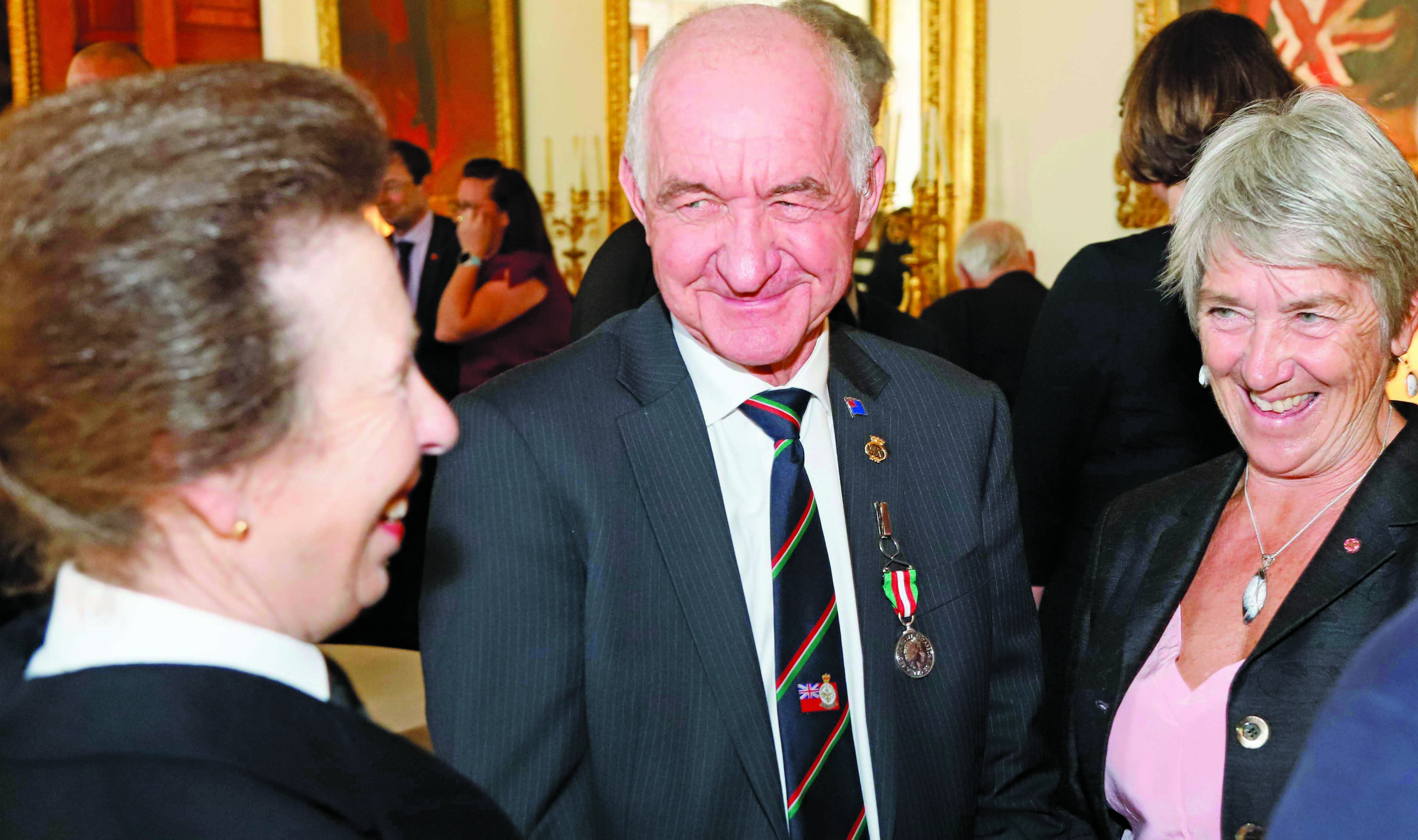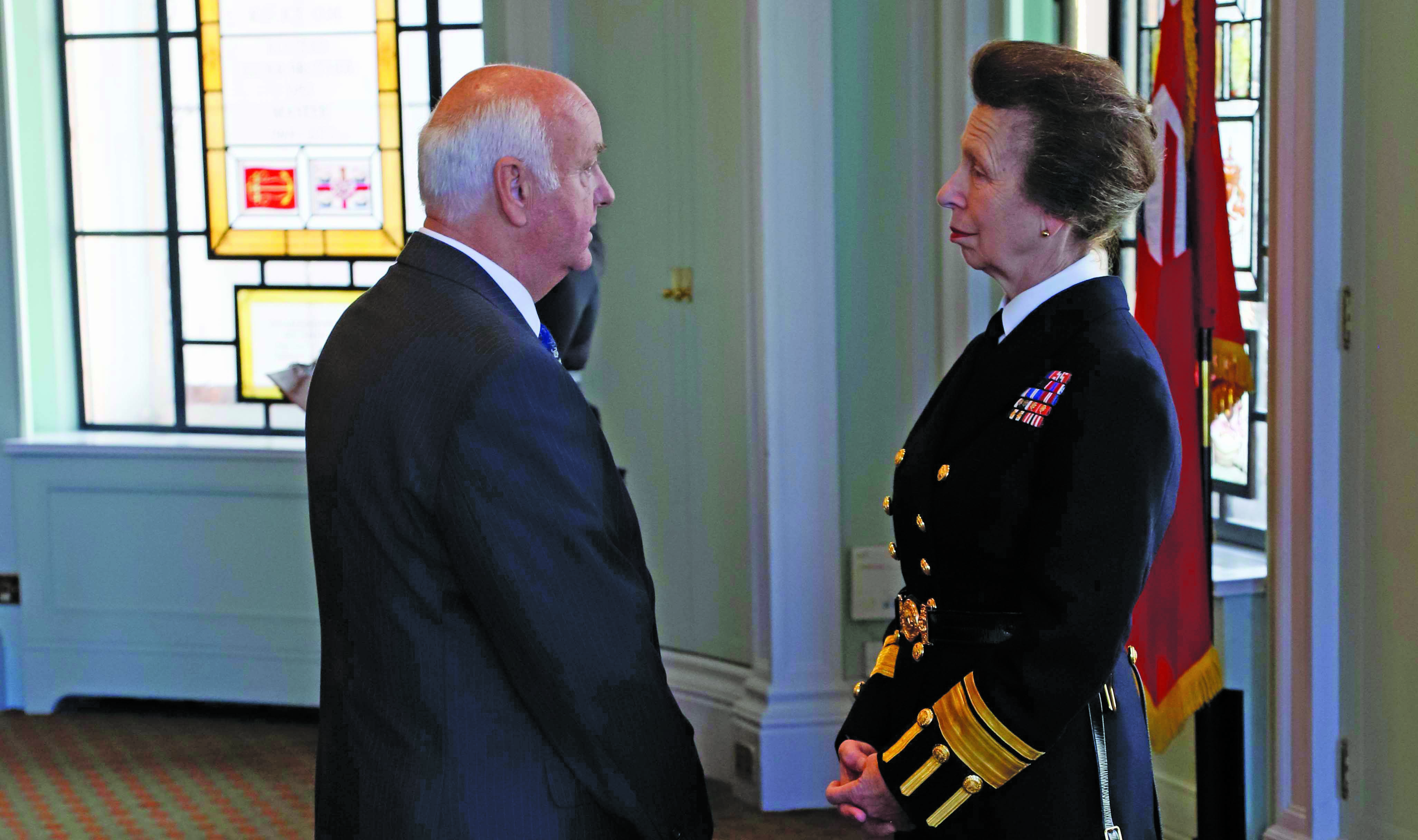 Medal for services to the Merchant Navy
Captain John Rankin spent 11 years at the beginning of his career in Shell's worldwide tanker fleet, followed by 29 years as master of all classes of offshore support vessels. Throughout this time he worked to support colleagues and enhance the reputation of the Merchant Navy – participating in activities such as saving lives at sea, innovative seamanship and leadership skills, sharing seafaring knowledge and working alongside HM Forces.
Now retired, Capt Rankin is currently supporting a study into dementia among seafarers and is working with Plymouth City Council on a project to erect a Merchant Navy monument on Plymouth Hoe. He is glad to be working on these projects with his wife Chris Rankin of The Watch Ashore, who was a recipient of the Merchant Navy Medal in its previous incarnation.
Medal for services to a maritime charity
Keith Thompson worked for various companies at sea before he was assistant purser on the ferry MV Norland in 1982 when it was sent to the Falklands conflict. He formed and is chairman of the Norland Crew Voluntary Group, which raises funds for the Hull Therapy Group supporting veterans from all four services and their families who may be suffering with mental and physical issues.
Mr Thompson has campaigned tirelessly for a memorial to all merchant seafarers to stand alongside those of the armed forces in Hull and he organises veterans' services and parades at Hull Minster. He was closely involved in the publication of a book about the Norland in the Falklands – All in the Same Boat by Warren FitzGerald – and was pleased to report that a film based on the book is looking likely to go into production in 2019.
Medal for services to the careers of young seafarers and seafarer welfare
Captain Michael Reeves had a 47-year career with Bibby Line Liverpool, including 31 years as a master on LPG and chemical tankers, and since retiring in 2006 has been actively involved with cadet training at Liverpool John Moores University. He has also served on the Nautilus Welfare Fund Committee for nearly 20 years.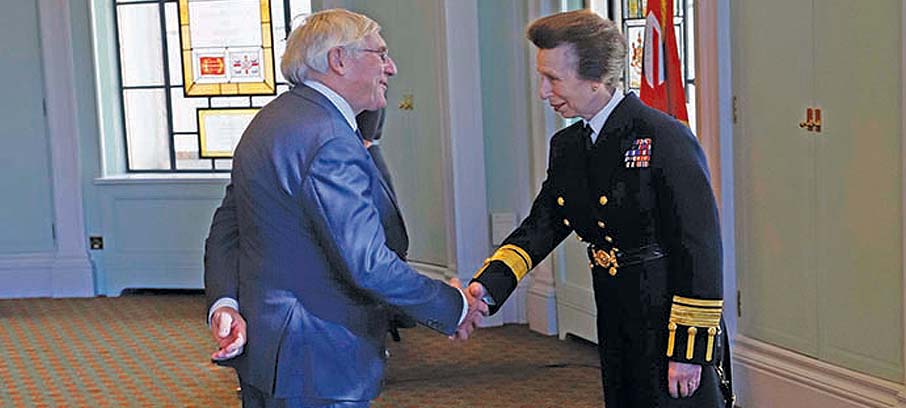 Capt Reeves spoke enthusiastically about his work with the Union's registered charity which is based at the retirement estate Mariners' Park on the banks of the River Mersey. 'The dedication of the Mariners' Park staff is so marvellous,' he said, adding that their work had been greatly enhanced over the past two decades by the construction of modern retirement accommodation and welfare facilities – starting with the Mariners' Park Care Home and continuing to this day with the Trinity House Hub, its Seafarers UK wing and new bungalows for independent living.
---
Tags