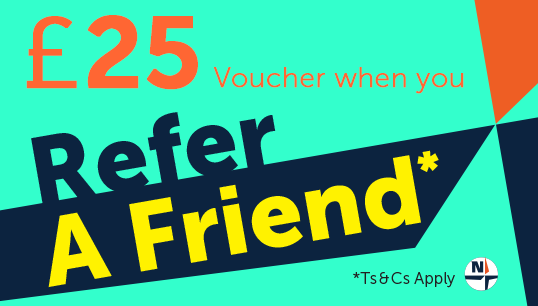 The more members we have, the stronger our voice. That means we can push hard when negotiating with your employer for better pay and conditions – so it makes sense to get your fellow seafarers involved with Nautilus International.
What's more, for every full member you refer to the union you will receive a £25 voucher in our 'Refer a Friend' campaign.
All full members of Nautilus International UK Branch can take part. Each successful referral will receive a £25 voucher with no maximum number of vouchers that can be claimed – for example, if you refer six new full members, you'll receive £150 in vouchers.
Referring members will also be entered into a £100 prize draw.
The offer runs until 17:00 hrs on 31 July 2023.
Terms and conditions* apply.
Refer a Friend in two easy steps:
Get them to sign up via the Nautilus online joining form
Claim your voucher
(You will need your membership number and the name of the person referred)
*Terms and conditions
The Refer a Friend offer is open to all full members of Nautilus International UK Branch
Referrals must take out a full membership of Nautilus International
Vouchers will only be paid when each referred full member has paid a minimum of 3 (three) months subscription
Vouchers can be claimed via the Referral form
There is no maximum number of vouchers that can be claimed by referring members
Reduced rate subscriptions such as cadet/trainee members are not valid
The campaign is not applicable to any member who has left the Union or given notice of membership cancellation during the offer period
Referring members will also be entered into a £100 prize draw, which will be drawn at the end of the campaign
The campaign will run until 17:00 hrs BST on 31 July 2023. Referrals made after this time will not be valid
---