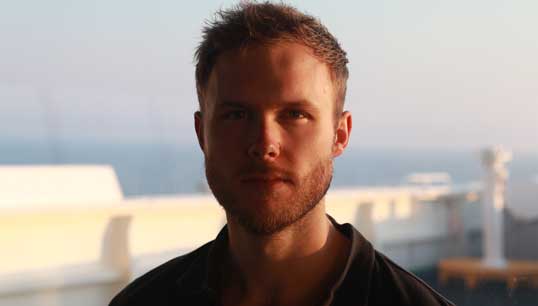 The UK and other seafaring nations should increase pressure on ports to lift crew change restrictions that have forced up to 150,000 seafarers to stay onboard after their contracts have expired, according to Nautilus member and former Royal Naval officer Thomas Stapley-Bunten.
Mr Stapley-Bunten was interviewed on BBC Radio 4's The World Tonight programme on Friday 1 May about his experience of being stuck onboard a liquefied natural gas (LNG) carrier trading between Turkey and Qatar.
The hardest part was not knowing when you would get off the ship, and that is affecting the crews' mental health, Mr Stapley-Bunten said. 'As it stands, Turkey isn't allowing crew changes. So, then it is back to Qatar and Qatar isn't allowing crew changes. After that, we don't know where we're going.'
'I don't know if it's going to be weeks or months before I can get off', he said.
Some crew had been onboard for six months with no end in sight.
The shipping company has provided crew with an increased WiFi allowance from four gigabytes per month to eight gb per month, which might not seem like a lot but is significant for someone stuck at sea.
The crew try and keep themselves entertained by playing table tennis tournaments.
Mr Stapley-Bunten is acutely aware that many key workers on land have a difficult role to play in the pandemic. 'When I read about healthcare workers who are at risk all day, every day, it kind of puts our hardships into perspective, and makes me realise a little bit that we are just a small part of a large effort,' he said. 'But onboard your hardships can seem very big when your world is so small.'
When the pandemic first broke, Mr Stapley-Bunten could understand why crew changes were stopped. This was an unprecedented global crisis, which no industry could really have been expected to predict or be prepared for.
But as time goes on, and the world progresses through the crisis, ports are going to great lengths to adopt measures to ensure they receive their cargo with minimal delays or disruption.
'The frustration is that the ports and port states have been much slower to show any willingness to adopt measures and amend regulations to help crew onboard vessels which deliver their goods. That's despite all the International Maritime Organization (IMO) recommendations to recognise seafarers as key workers and lift national travel restrictions.
'A lot of countries, such as Turkey, just aren't adhering to these recommendations at all.'
Mr Stapley-Bunten would like seafaring countries, including the UK, to put some pressure on ports to lift crew restrictions and enable seafarers safe passage from port to airport in order to catch connecting flights home.
'Crew changes need to be more of a priority,' he said. This isn't just a few hundred sailors being affected. It's hundreds of thousands of seafarers.
'Every day when I'm on the bridge of the ship, I see hundreds of thousands of tonnes of shipping, delivering the goods, oil and gas that the world requires to keep running.
'All I would ask the international community to do is simply put in place measures to allow crew to get home, whilst of course still mitigating the risk of infection.'
Nautilus members who are concerned or are experiencing difficulties related to the coronavirus outbreak are advised to contact their industrial organiser for assistance. In an emergency, members can also contact the Nautilus 24/7 helpline.
More Nautilus assistance and our coronavirus resource hub can be found on our Assistance page.
---
Tags