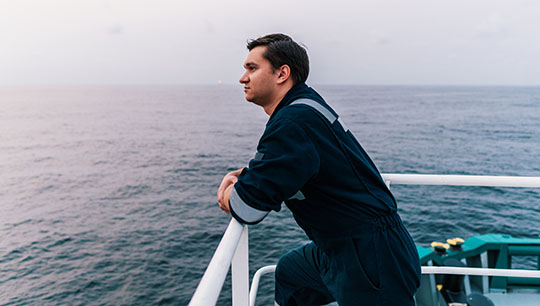 A tanker captain has described spending days anxiously awaiting results of a Covid-19 coronavirus test for a crew member in the Middle East.
The tanker, fully loaded with millions of pounds worth of natural gas, was delayed for two days at anchorage while awaiting the results.
The master, who asked to remain anonymous, had previously alerted the Union to delays in getting medical help for the crew member. Despite the port state knowing about two sick crew members displaying Covid-19 symptoms ahead of docking it took at least six hours of negotiations between the shipowner and the port state for one crew member to be allowed to leave the ship by ambulance.
The master said that the crew were all very relieved when the results eventually came back as negative.
No other crew have been tested for the virus. 'If the test had been positive, we would all have been tested, which is why we waited for the results.'
The vessel is now due to leave anchorage without any replacement crew. 'We are not able to get any new crew onboard as everywhere is on lockdown.'
However, the vessel was already operating with extra crew onboard which meant it maintained Maritime Labour Convention (MLC) standards and 'was not shorthanded'. The company has also been stockpiling basic food stuffs at various places around the world to keep ships supplied.
'We have plenty of food onboard and will not take food supplies from hot spots.'
It has become more difficult to get ship spares due to worldwide shortages.
On March 30 the International Ship Suppliers & Services Association (ISSA) called for ship suppliers to be given 'essential worker' status to enable them to keep ships stocked with vital supplies and spare parts needed during the global coronavirus pandemic.
ISSA was responding to complaints from ship supply companies that they are being prevented from delivering to ships in some ports.
Nautilus members who are experiencing difficulties related to the coronavirus outbreak are advised to contact their industrial organiser for assistance. In an emergency members can also contact the Nautilus 24/7 helpline.
More help and our coronavirus resource hub can be found on our Assistance page.
---
Tags