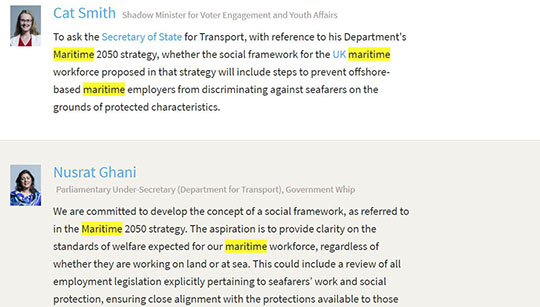 The British government has committed to review existing employment legislation for UK seafarers to ensure protections against discrimination by foreign companies.
In answer to a question in Parliament on February 12 from Cat Smith, shadow minister for voter engagement and youth affairs, now former shipping minister Nusrat Ghani said: 'We are committed to develop the concept of a social framework, as referred to in the Maritime 2050 Strategy.
'This could include a review of all employment legislation explicitly pertaining to seafarers' work and social protection, ensuring close alignment with the protections available to those working in land-based roles.'
The promise follows in the wake of an Employment Appeal Tribunal (EAT) on January 16 that found a legal loophole in the Equalities Act 2010 (Work on Ships and Hovercraft) Regulations 2011, which excludes protection to seafarers working on foreign vessels outside UK waters.
That loophole meant Hong-Kong based Wallem Shipmanagement was able to discriminate against a British female deck officer because she was a woman.
Nautilus welcomed the opportunity to revise the regulations.
Nautilus International director of legal services Charles Boyle said: 'We are determined to secure fair access to job opportunities for those entering the industry, regardless of their background.
'Any act of discrimination that takes place in the UK should be outlawed.'
The next formal review of the regulations takes effect in 2021. Nautilus will work with social partners including RMT union and the UK Chamber of shipping to ensure seafarer protections.
---
Tags