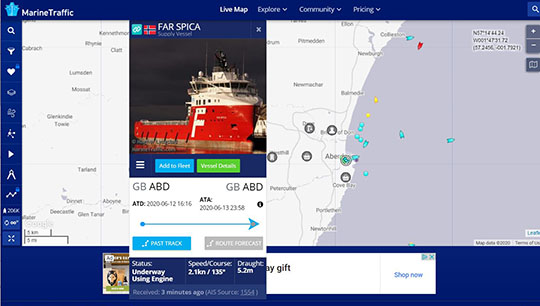 Nautilus International is acting on behalf of five members working for Solstad Offshore, who it believes are victims of social dumping, after the Norwegian company announced it was terminating the contracts of 22 employees without collective or individual consultation or option to appeal.
One English and four Portuguese members may have grounds to claim for unfair dismissal after they were among the 22 seafarers who received termination notices on 19 May 2020. The notices were based on Solstad's claim that the offshore service vessel that they crew, the Norway-flagged Far Spica, which has been working in the North Sea, has been laid up.
But the Nautilus members involved allege that the vessel now has a long-term charter with Spanish/Chinese company Repsol Sinopec in UK waters and that a new crew of Ukrainian and Filipino seafarers have been assembled by Solstad to replace them.
On June 11 Solstad said in a press release the Far Spica had secured a six month contract in with a North Sea operator.
Nautilus confirmed with Repsol Sinopec Maritime Co-ordinator Chris Ellis that it had chartered the Far Spica for six months.
On Monday 15 June the Marine Traffic website showed the Far Spica was moored in the port of Aberdeen where Repsol Sinopec has an office.
Nautilus national organiser Steve Doran said 'if there is a long-term charter then I want to expose this'.
One member Nautilus is representing has worked for Solstad, previously Farstad, for 25 years. Another has been with the company for nine years.
Nautilus believes that in this case experienced seafarers are being replaced by cheaper sources of labour – also known as social dumping.
Mr Doran has challenged Solstad over the redundancies and asked the company to stop the process until consultations can be held. The Union has also reached out to Norwegian unions and lawyers seeking support and assistance and legal advice.
Most of the members facing termination of contract were previously employed by the Norwegian company Farstad, before the two merged in June 2017. As a result their terms of employment were weakened.
'They're now on poorer terms of redundancy,' Mr Doran said. 'They have no basic rights of appeal or to talk to them. It's a disgrace. The other thing is, I understand that Solstad have a lot of seafarers in their fleet who are temporaries. Even the Norwegian unions said to us that as they would never accept Solstad are getting rid of permanent people on permanent contracts before temps. And that's what's happening.
'The situation is unacceptable. We're going to fight tooth and nail for our members,' Mr Doran said.
Under Norwegian law there is no right to redundancy payment, however the employee has the right to remain in post for the duration of a notice period of three months. The parties involved are also free to enter into an agreement concerning a redundancy payment.
---
Tags