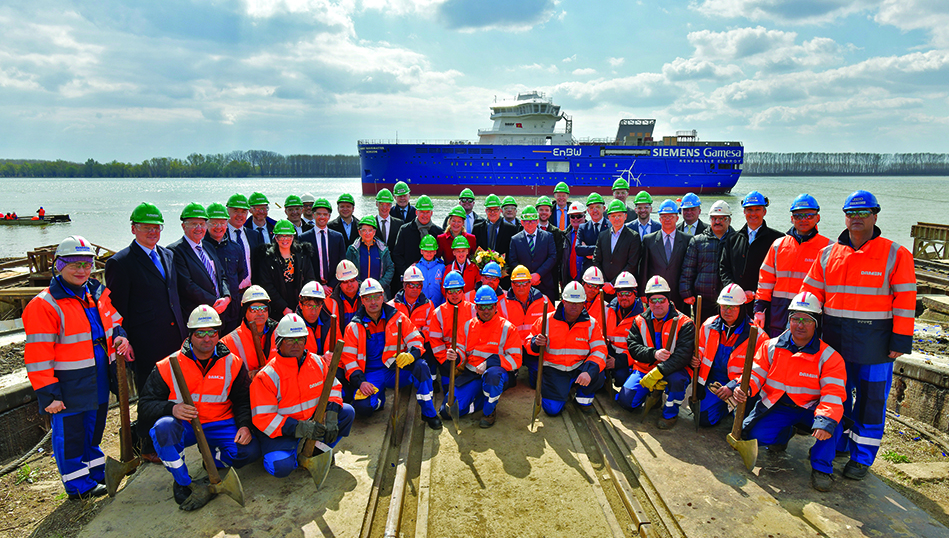 The successful introduction of Bibby Marine Services' first service operations vessel (SOV) has spurred the construction of a second ship – which will lead to more jobs for British seafarers. Andrew Linington reports
'The Bibby WaveMaster 1 was a very brave decision for the company,' says Bibby Marine Services managing director Stephen Bolton. 'It was a commercial decision to build a high-spec, top-end vessel and we believed that if we built it, it would get the work.'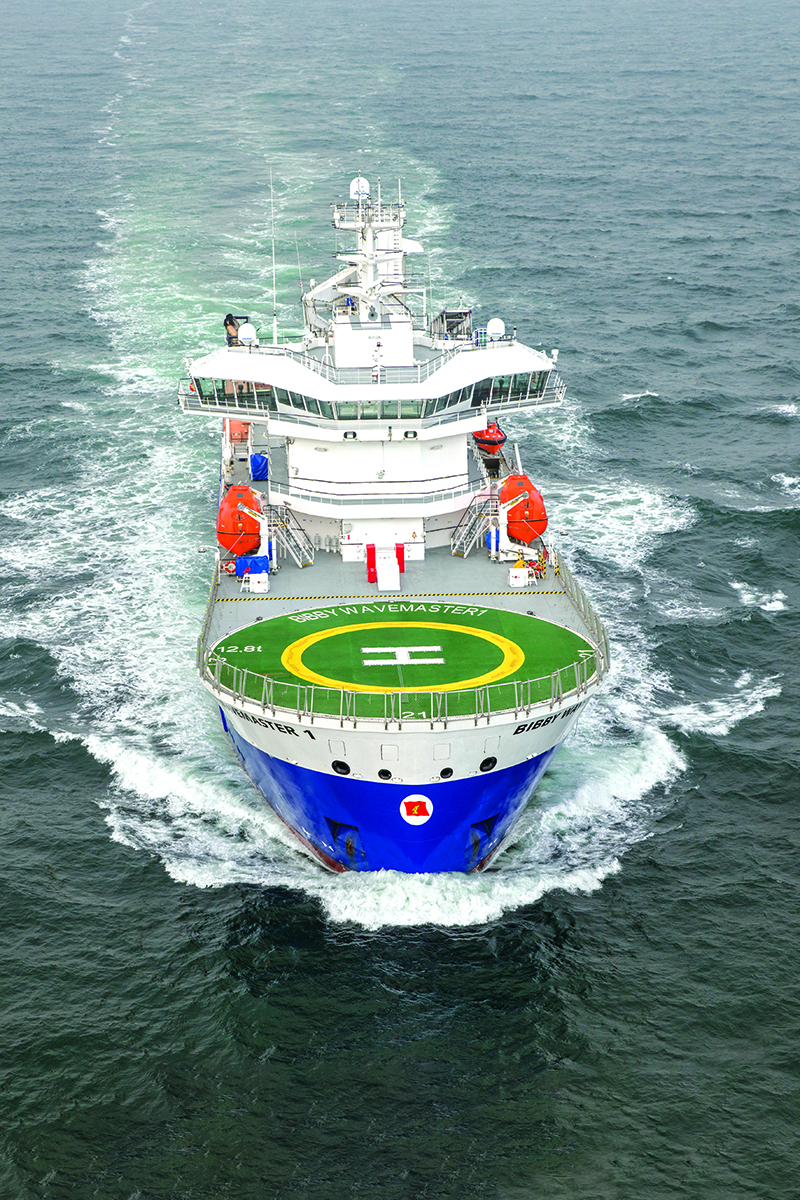 A year and a half after the vessel's entry into service, Bibby's decision has paid off handsomely – so much so that work is presently underway on a second WaveMaster, due for completion later this year.
Built in Romania by the Dutch firm Damen, the 6,241gt WaveMaster 1 has worked virtually non-stop since its introduction, serving some of the biggest windfarm developments in European waters.
The rapidly expanding offshore windfarm industry has generated significant demand for maritime services – and the growth of the sector has not been entirely free from problems, with some early controversies over vessel safety and seafarer working conditions.
But Bibby spotted an opportunity for a different approach, and Mr Bolton – who trained as a mechanical engineer and worked in the mining industry before working on the UK's first offshore windfarm development in 2002 – came in to assist in developing the project.
'Through Bibby HydroMap, which specialises in subsea surveys, we were already doing significant work in the renewables sector, so we did some strategic thinking about the different types of marine assets in the sector and how these could fit in with our shipping business,' he says.
'When entering a new market, you look for a differentiator – and during our market research we came across Damen, which was designing something subtly different, something that was technically superior to the competitors,' he adds.
'We could have taken a traditional platform support vessel and put a gangway onto the back of it. But instead, Damen started with a blank piece of paper and designed and refined a hull to make it more stable, more flexible and more efficient, giving it a critical edge in terms of access performance.'
Bibby WaveMaster 1 was the first in its class of what are known as service operations vessels SOVs) – purpose-designed and built to support offshore energy construction and maintenance projects with stepless 'Walk-to-Work' (W2W) transfers of technicians in significant wave heights of up to 3m.
The ship represented an entirely new concept for the offshore renewables sector, combining DP2 capability with a motion-compensated gangway, and a strong emphasis on crew and passenger comfort, all based upon an innovative hull that was designed knowing it was for a W2W vessel.
It also served as a step-change from using crew transfer vessels to shuttle technicians out to windfarms every day – recognising the way in which turbines are now being sited at increasing distances from the shore and in more challenging seas.
'The WaveMaster series is all about the safe and efficient transfer of personnel,' Mr Bolton said. 'Having everyone on the vessel and being able to deliver them to whichever asset they need to work on removes the need for helicopters and smaller vessels, and enables 24-hour, triple-shift working.'
Built to operate at sea for up to 30 days at a time, the SOV has specially-designed accommodation for between 20 and 25 crew and up to 66 client technicians, and is fully equipped with a gym, sauna, cinema, and high-speed connectivity. The ship's 90m hull, 20m beam and 4.6m draught aid its seakeeping qualities, reduce roll and slamming, and add to onboard comfort. From the outset of the ship's development, the need to prevent seasickness among the turbine engineers – who work on a fixed structure for a
significant part of the day – was critical.
WaveMaster 1 came into service just 12 days after being handed over in the port of Rotterdam in September 2017. The first charter was for James Fisher Marine Services, undertaking winter commissioning work in the 353MW Innogy Galloper windfarm off the east coast of the UK.
This was followed by work with Total E&P Netherlands, servicing its gas platforms in the southern North Sea, winter maintenance operations in the Burbo Bank windfarm in Liverpool Bay, and cable installation work with VBMS.
'The ship has barely had any downtime, and has worked in every sector: for a windfarm owner, a wind turbine manufacturer, a windfarm construction company and in the hydrocarbons sector,' Mr Bolton said. 'It really demonstrates the versatility of the vessel – we can turn our hand to anything.'
We could have taken a traditional platform support vessel and put a gangway onto the back of it. But instead, we have a new hull design that's more stable, flexible and efficient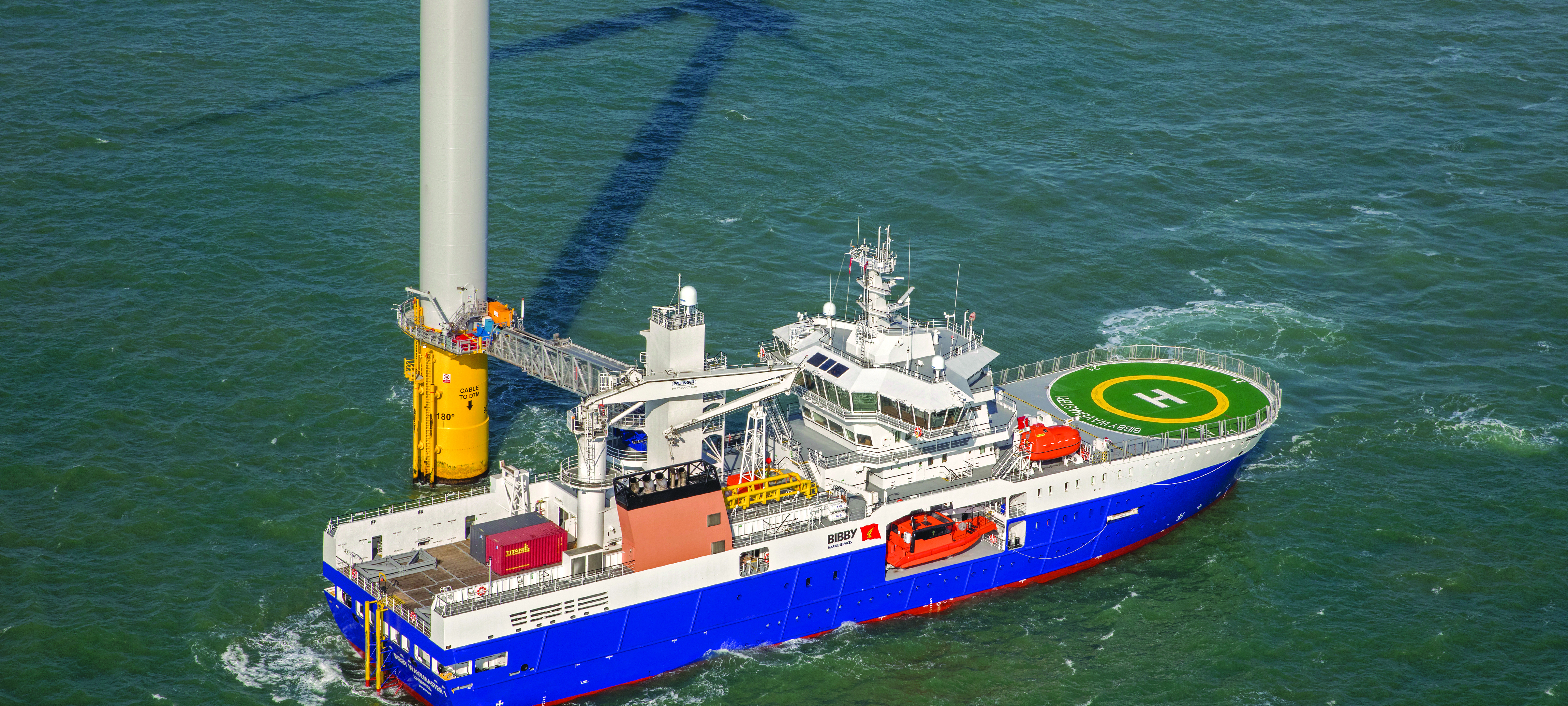 Although primarily designed for windfarm work, the SOV can support a wide range of operations in other offshore industries, with a helideck and daughter craft, and it can be readily modified to include facilities for dive support and ROV operations.
WaveMaster 1 has a diesel-electric propulsion system, with two main 690V diesel engines and two 2,150kW electric motors driving two azimuth thrusters with fixed pitch propellers, and one 860kW retractable and two 860kW fixed bow thrusters. The ship is equipped with a DP transit mode, allowing transfer from one turbine to another in DP tracking mode, rather than going in and out of dynamic positioning mode each time.
Bibby has worked closely with clients to develop and refine the SOV concept and its operations. 'We are trying to change the conversation and to be honest about what we can and can't do, using a lot of technology to show clients what they can expect,' Mr Bolton said. Key to this was working closely with Damen to develop a 'digital twin' of the SOV design, enabling simulations of the DP system and gangway connection in all kinds of conditions.
Not only does the SOV remove the need for daily crew transfer vessel services – and their greater vulnerability to adverse weather – it is designed to provide safe turbine access in about 80% of all conditions expected in the central North Sea. Cutting out the long daily transits also reduces fatigue and increases efficiency, Mr Bolton said.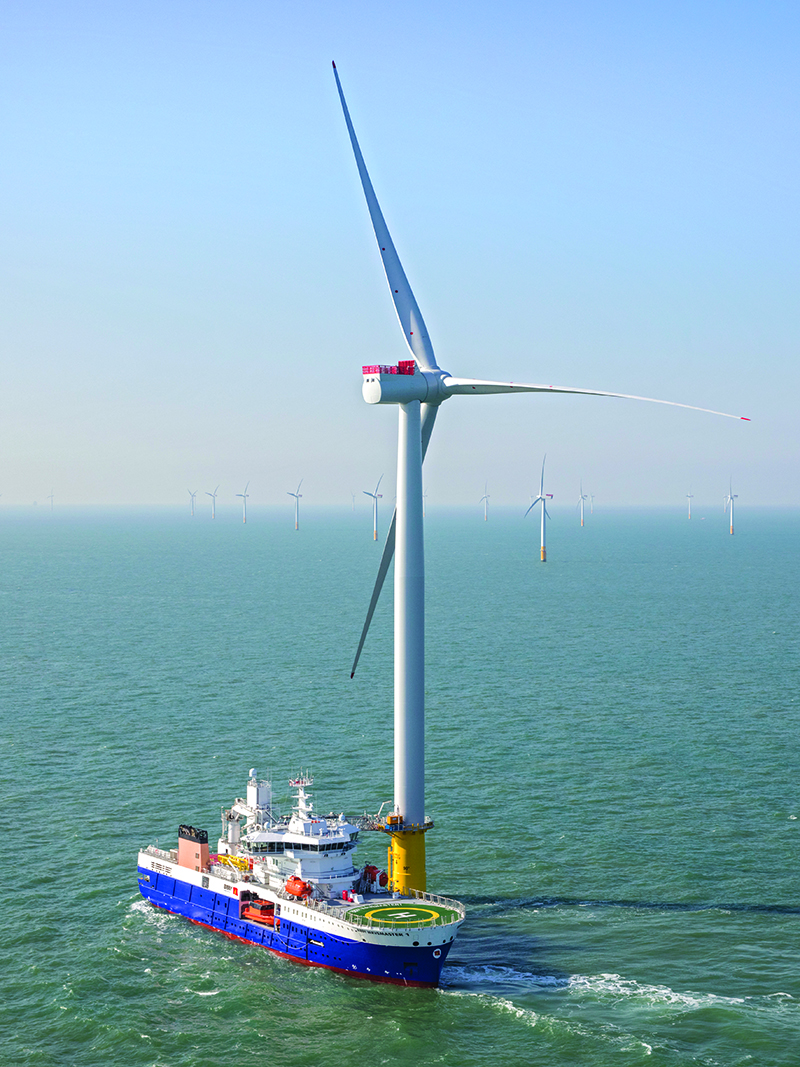 WaveMaster 1's commercial and operational success prompted the order of a second vessel – Bibby WaveMaster Horizon, which was launched last month.
This spells good news for British seafarers, as the vessel will require more than 40 seastaff.
'These vessels work in tough conditions and are designed to operate 10m off an asset, so the crew need to be exceptionally skilled in what they are doing,' Mr Bolton said.
Not surprisingly, many of the WaveMaster 1's crew came with extensive PSV experience.
Working onboard a WaveMaster vessel can offer not only excellent shipboard conditions, but a high level of job security thanks to the long-term contracts that have been secured for the SOVs, he said.
'One important difference from the oil and gas sector is that you don't have the boom and bust prices in renewables; rather, the rates are at a fixed price on a long-term basis,' he adds. 'I don't know many other vessels offshore that can offer 10 years of security.
'The best compliment I get from clients is that we are not like any other shipping company they have dealt with, and I want the crew to feel that as well,' Mr Bolton says.
More SOVs are set to follow in subsequent years, with the design and specifications being adjusted to meet different market requirements. Bibby Marine Services has set itself the ambitious target of winning 25% of the offshore renewables servicing market – which could translate to more than 20 SOVs.
'The market is incredible – most European countries with access to the sea are building windfarms and continuing to build on an amazing scale,' Mr Bolton concludes. 'But the world is opening up, with countries like the US, Taiwan and Vietnam building offshore, and we are looking at how we can best serve them.'
Looking to new horizons at second SOV launch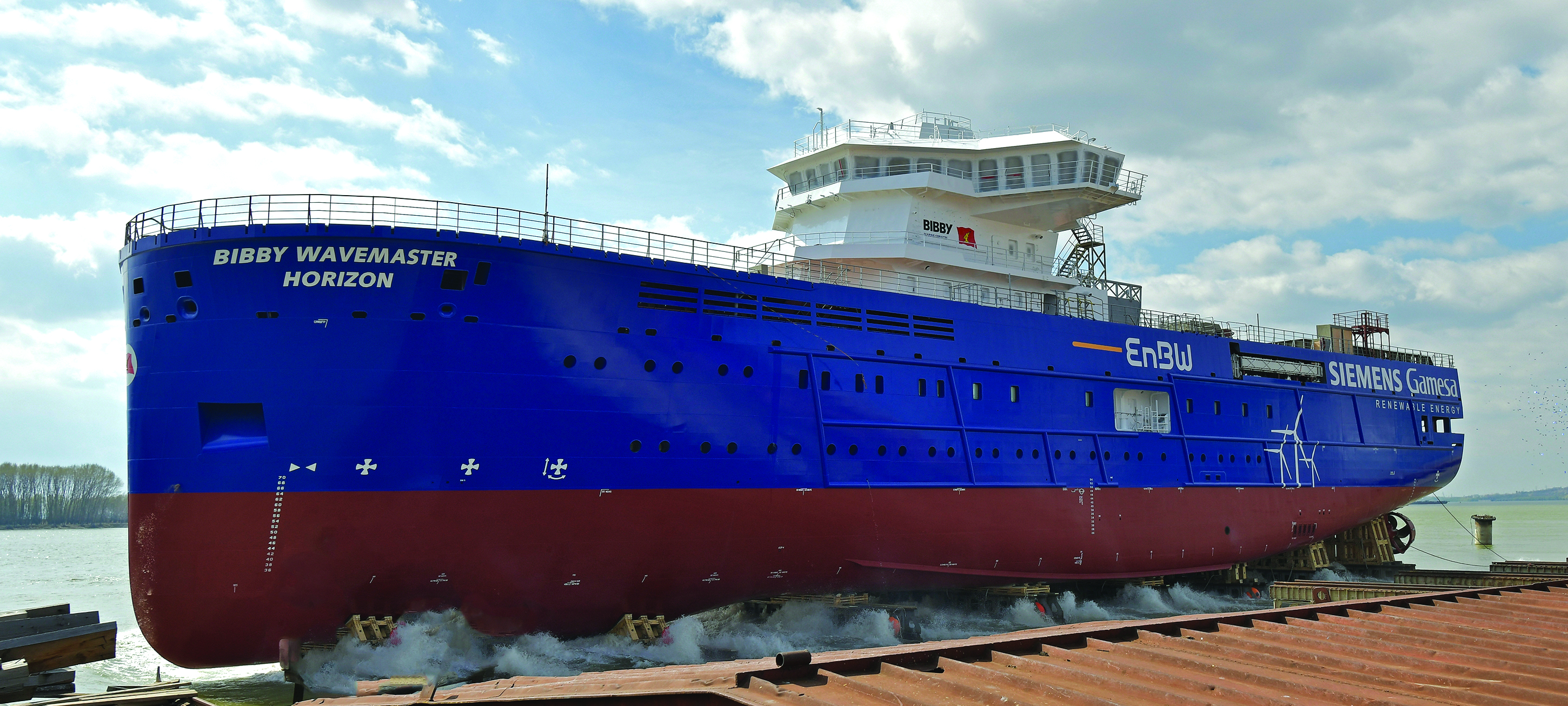 Nautilus head of recruitment and membership Derek Byrne joined the celebrations as Bibby WaveMaster Horizon was launched at the Damen Shipyards facility in Romania on 29 March 2019.
Following delivery later this year, the SOV will begin maintenance work on two EnBW and Enbridge-owned windfarms in the German North Sea – Hohe See and Albatros – for Siemens Gamesa Renewable Energy and EnBW.
'Since delivery in September 2017, the Bibby WaveMaster 1 has worked continuously in the offshore wind and oil and gas sectors proving her design and Bibby's management model on a daily basis,' said Bibby Maritime Services managing director Stephen Bolton.
'We are therefore confident that the Bibby WaveMaster Horizon will perform equally well for our clients Siemens Gamesa Renewable Energy and ENBW and set a new benchmark in the offshore wind operations and maintenance sector.'
Mr Byrne added: 'Nautilus has a long-standing relationship with Bibby, and I was pleased to attend the launch of the Bibby Wavemaster Horizon. The Union welcomes the fact that the ship has been UK flagged and is providing good-quality seafaring jobs. Nautilus looks forward to continuing to work with Bibby.'
---
Tags