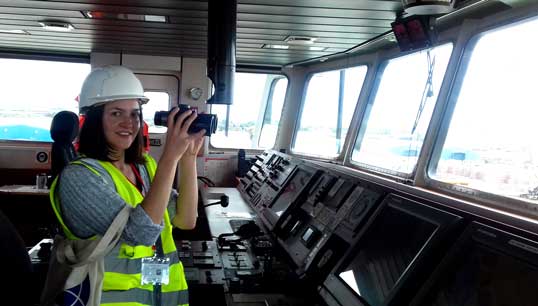 Due to the outbreak of the Covid-19 pandemic, mental health issues, both on land and at sea, have come increasingly entered the public's awareness. As part of Mental Health Awareness Week, Nautilus is providing a voice for those working on the frontline for crew wellness.
Ekaterina studied journalism in her home country of Russia before moving to the UK to improve her English language skills. Although having no connection with the maritime industry before joining ISWAN in 2015, her linguistic skills were invaluable, as Russian is one of the main languages of seafarers. She learnt about the industry on the job, while attending special helpline skills courses and gaining work experience, and is now a qualified call handler.

What inspired you to get involved with SeafarerHelp?

People tend to forget seafarers are a major workforce. We often don't realise our food on the table or Amazon delivery is there thanks to seafarers. However, problems that seafarers face every day are not discussed enough.
I am good at listening to people and being there for them when they most need it. I think I have naturally built in empathy and resilience skills, which are essential for any helpline worker. Although an important part of my job is talking to Russian speakers, I like the fact that I get to talk to seafarers of all ranks and nationalities.

Tell us about of the average day as a helpline operator at the charity.

It would be fair to say there is no average day at SeafarerHelp. We work both days, and nights, and our service operates non-stop 24/7 and 365 days a year. You never know what call you might suddenly pick up, so it's important to stay alert, even if it's quiet. It could be a seafarer calling you in the middle of the night from Australia; it could be a suicidal caller or someone seriously injured in an accident.
When is your busiest time of the year?

From my experience, it's impossible to track a pattern. SeafarerHelp is busy all year round apart from Christmas and New Year. I think seafarers like to take a break too and enjoy themselves whether on board or at home.

What is the most common issue that seafarers seek help with?

We often get calls about repatriation and unpaid wages, but bullying, hierarchy on board, employment and contract issues, long working hours and fatigue also feature prominently. Mental stress is a common issue as well. You may be surprised to hear this, but many seafarers suffer from different forms of anxiety or depression.

Has the Covid-19 pandemic resulted in an increase of call volumes?

The number of calls we received last month has tripled compared to this time last year. Almost every call we receive is somehow related to coronavirus.
Repatriation has become a real problem. Lots of seafarers are unable to return home or are stranded in the countries like India and Philippines because of lockdown. This inevitably leads to other serious problems like financial instability and mental stress.

What is the most rewarding aspect of your job?

I process a lot of negative information every day. Financial struggles, illnesses, stress, fatigue, anxiety, low mood…sometimes it feels overwhelming. A tough part of the job is we cannot provide an immediate magic solution to these problems. When we hear positive feedback from seafarers and read their thank you messages, it feels very special and I feel it's like my battery is getting recharged.

Do you see technology as a help or a hindrance to seafarers' mental health?

On the one hand, technology is a great benefit for seafarers. It gives them a chance to stay connected with the world. They can stay in touch with their families, get the latest news or if there is a problem they can reach out for support.
On the other hand, technology can make a seafarer feel isolated. From calls we get, it seems most seafarers tend to avoid crew gatherings and prefer to spend free time on board alone.
Technology is great for communication and it opens a lot of opportunities, but it needs to be used carefully and in moderation. It is important for seafarers to stay connected with the outside world, but it's also very important to learn how to maintain positive relationship with colleagues on board.
What advice would you give to any seafarers who are suffering from mental health issues?

People now are more open about mental health than ever before. The awareness of mental health continues to spread around the world.
Productivity of the crew totally depends on the working atmosphere and team spirit on board. Companies have started to recognise the importance of mental health and it's a great start.
Unfortunately for most seafarers, ships remain an uncomfortable place to work.
I would like to reassure anyone who is suffering from depression or anxiety, that help and support is available. Our service is open to seafarers of all ranks and nationalities. No matter what you have on your mind, you can talk to us and we will do our best to help you.
This Q&A was published in partnership with UK P&I Club crew health programme director Sophia Bullard. She is also a Global Ambassador for the Sailors Society, and has been involved in many crew wellness projects with seafarer charities such as Sailors Society, ISWAN, Apostleship of the Seas and Mission to Seafarers.
---
Tags