April 2019 was the second time that large UK companies have been required to report their gender pay gap data – showing the difference in average hourly pay between men and women across an organisation. Helen Kelly looks at UK maritime employers to see how they fared in the challenge of closing the gap since their last report
On 5 April 2019, all UK companies with more than 250 employees were due to report their gender pay data. This is only the second year that gender pay pap reporting has been mandated under the Equality Act 2010, and we are pleased to report that close to 100% of our target employers required to file a report hit that deadline.
In total, 27 large employers of Nautilus members were required to report data. For the purposes of this article, we will refer to these organisations as Nautilus target companies. Reporting companies sit across the maritime industry, and include ro-ro, cruise and ferry, container lines, tanker operators, offshore supply and ports.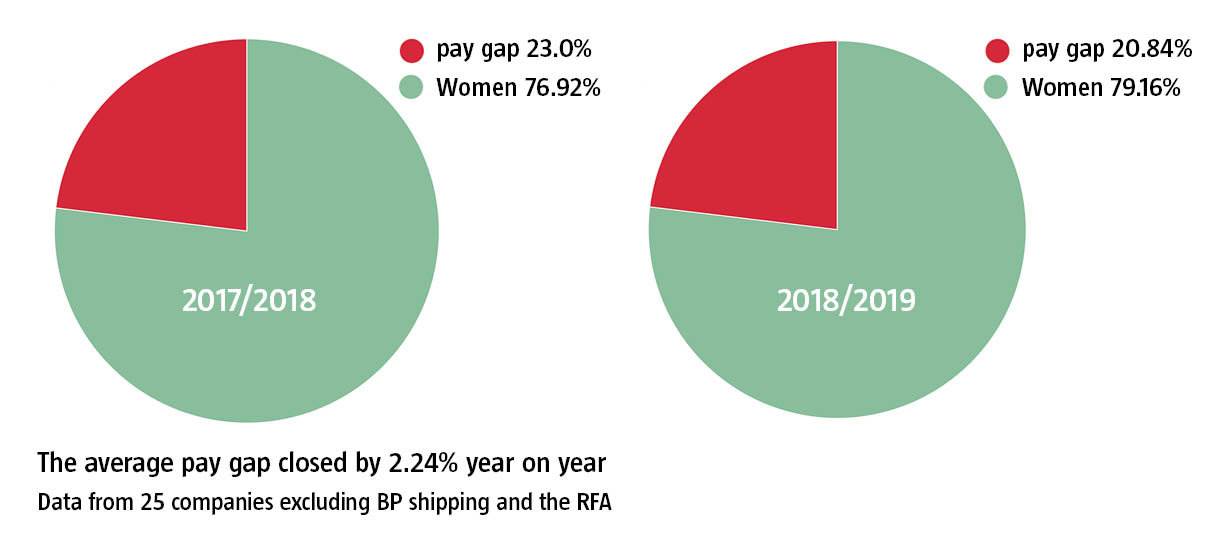 Some maritime companies, such as BP Shipping, had their gender pay gap data rolled into the wider business, which meant we could not drill down to specific details. As such, BP Shipping was removed from our analysis.
The Royal Fleet Auxiliary data was reported as part of the Ministry of Defence (MoD) civilian agencies, which also include Defence Electronics & Components Agency (DECA), Defence Equipment & Support (DE&S), Defence Science and Technology Laboratory (Dstl), and the UK Hydrographic Office (UKHO).
In the first reporting year, 2017/2018, the overall MoD civilian agencies' median pay gap was 10.9% – meaning that for every £1 a man was paid per hour, women were paid 81 pence.
Data for the reporting year 2018/2019 had not been filed by the time this article went to press in the May 2019 Nautilus Telegraph, so we have removed MoD civilian agencies from the analysis.
What exactly is the gender pay gap?
The gender pay gap is the difference between the average hourly earnings of a company's male and female employees (excluding overtime). If an organisation has a 20% pay gap, that means women earn, on average, 20% less per hour – or 80p for every £1. A negative gender pay gap means women earn on average more than men per hour.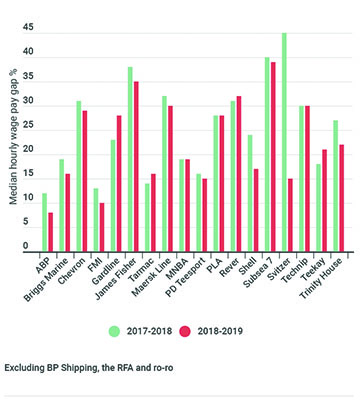 Gender pay gap figures do not show that individual men and women are being paid differently for doing the same or equivalent work, which is illegal under the Equal Pay Act 1970. Instead, a gender pay gap is calculated across an organisation, and tends to indicate that there are more men than women in senior positions or other prestigious roles.
Companies are required to report their mean and median gender pay gaps, the difference in average bonus paid to men and women, and how many men and women are in each quartile of the firm's salary amounts.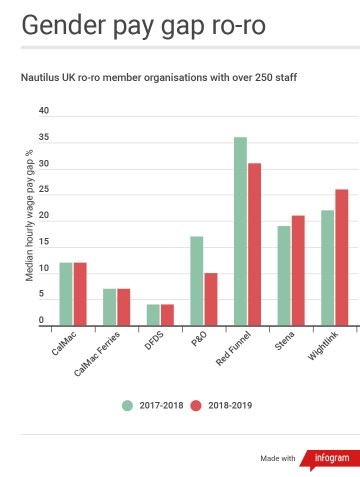 Companies are also encouraged to provide supporting documents in their report, to explain some of the reasons why a gender pay gap may be present, and what the organisation intends to do to close it.
While not mandatory, these supporting documents can help promote a better understanding of the raw data.
Across all UK businesses required to report, the gender pay gap fell between 2017/2018 and 2018/2019 to stand at 8.6% among full-time employees, according to the Office for National Statistics.
The gap among all employees is higher at 17.9%, driven by more women working in part-time jobs.
Whatever the sector or occupation, part-time jobs tend to be considered less prestigious and attract a lower average hourly wage of £9.36 – compared with £14.31, excluding overtime, for full-time jobs. Women are also more likely than men to work in occupations such as administration and caring, which generally offer lower salaries.
How Nautilus target companies stack up
Large companies employing Nautilus members – excluding BP Shipping and the RFA – had an average gender pay gap of 20.84% in the 2018/2019 reporting year.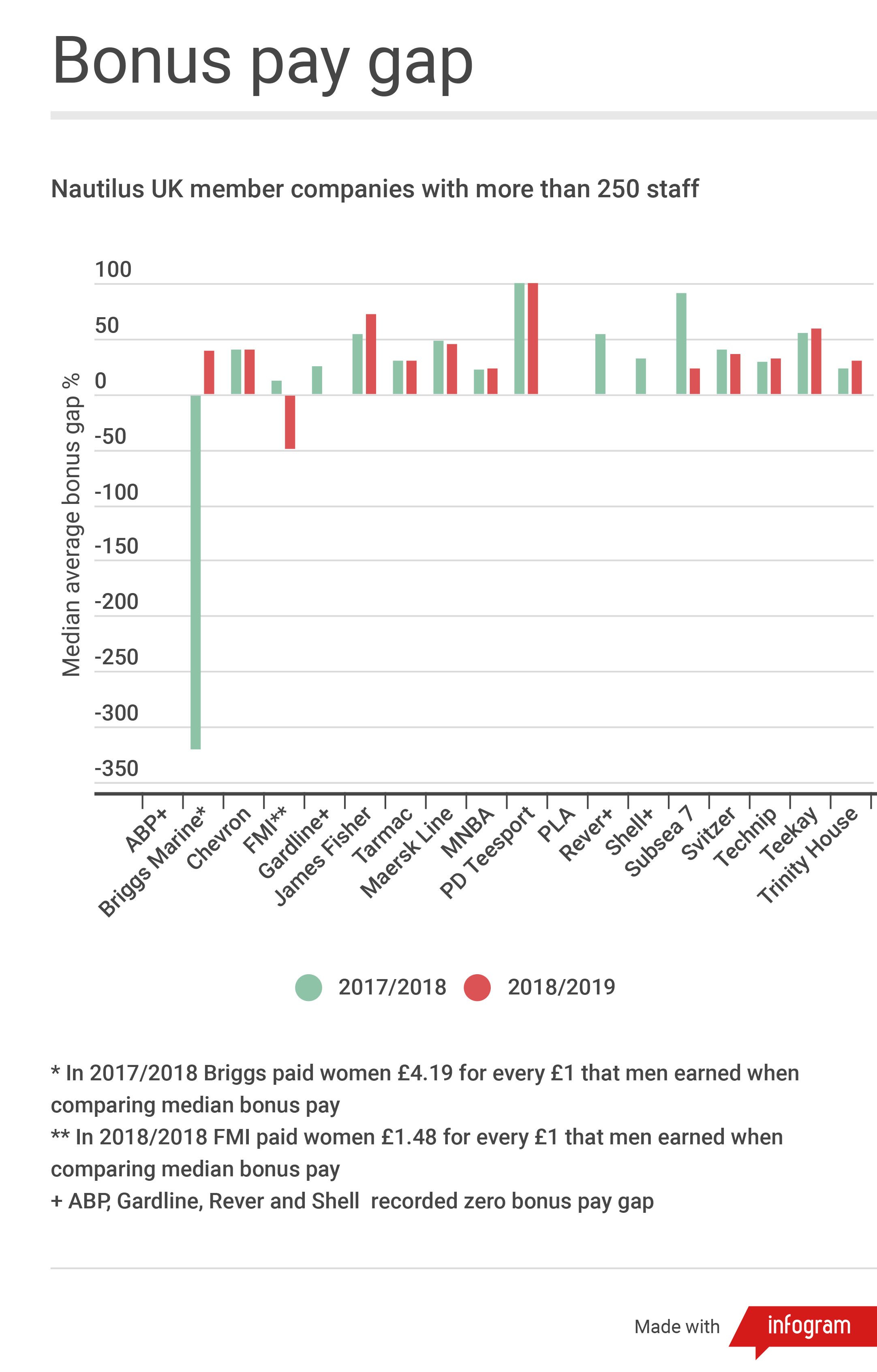 This is higher than the UK average (see pie chart: Nautilus target company average pay gap), but is an improvement on 2017/2018, which saw an average pay gap of 23.08% across those companies.
While all Nautilus target companies still pay men on average more than women on an hourly rate, excluding overtime, most of these companies saw their gender pay gaps close slightly year on year (see bar charts: Gender pay gap and Gender pay gap ro-ro).
Six companies, however, saw a widening of the pay gap: ferry operators Stena and Wightlink, offshore survey company Gardline, dredging firm LaFarge Tarmac Marine, Rever Offshore (Bibby), and tanker operator Teekay.
In supporting documents, both Teekay and Rever said their pay gap was due to having fewer women in highly-paid technical offshore and senior roles, and that they experienced challenges in hiring due to reduced numbers of females starting on an engineering career path.
Both firms noted that female students were less likely to choose the STEM subjects (science, technology, engineering and mathematics) required for a career in engineering, and said they were actively working with higher educational facilities and schools to promote offshore jobs and engineering to female students.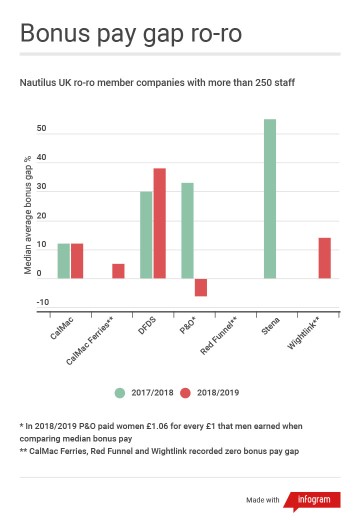 Tarmac said there were three main reasons for its difference in pay: 'We have significantly fewer women than men in the business; we have a much larger number of part-time female employees; and we have too few women in senior roles.'
Stena Line said it does not employ all individuals working within Stena Line Group, so results do not fully demonstrate the true picture of the business: 'Stena Line is under a transformation journey, focusing on its culture, behaviours and values, placing the highest importance on the employee experience, which includes how we hire, reward and recognise employees without discrimination or bias as we strive to be the employer of choice within shipping.'
Wightlink provided a brief statement on its website: 'Whilst always appointing the best people for our varied roles, regardless of gender, we continuously review how to address our gender pay gap.' Gardline did not provide extra information on its gender pay gap.
All the companies on our target list employed proportionally more women in the lowest paid jobs, and proportionally fewer women in the highest paid jobs (see four graphs on the proportion of women in each quartile).
The bonus gap
In 2018/2019, on average, more men than women were paid a bonus across our target companies. Men also got paid a higher bonus on average than women.This reflects the fact that there are proportionally more men in senior positions likely to attract a bonus across all our target companies.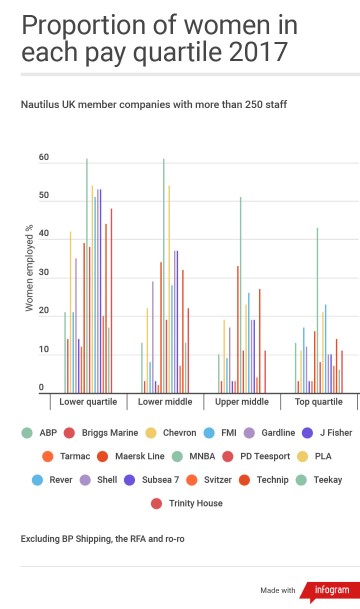 However, two companies stood out from the crowd by paying women higher average bonuses: Fleet Management International (FMI) and P&O Ferries. In 2018 FMI paid women £1.48 for every £1 that men earned when comparing median bonus pay; while P&O paid women £1.06 for every £1 that men earned (see bar charts: Bonus pay gap and Bonus pay gap ro-ro).
FMI, which manages crew for Carnival fleet brands Cunard Line and P&O Cruises, did not say why its bonuses were preferential to women, but did point out that the overall proportion of females receiving a bonus in the 2018/2019 reporting year was higher than males (59% versus 51%) with 86 females receiving a bonus compared with 505 males. P&O did not provide extra information on its bonus pay gap.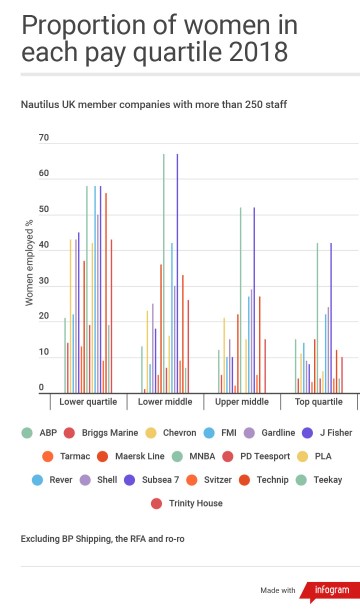 One result that sticks out is Briggs Marine's 2017/2018 bonus pay gap, which benefited women by a whopping 318.7% (see bar chart: Bonus pay gap). In 2017/2018 Briggs paid women £4.19 for every £1 that men earned when comparing median bonus pay. That year, 43.3% of women and 17.9% of men received a bonus at the offshore and marine services company.
In 2018/2019, however, the tables were turned and women were paid 79 pence for every £1 that men earned when comparing median bonus pay – which is more representative of the overall average bonus gap. That year, 26.5% of women and 27.2% of men were paid a bonus. Briggs Marine did not provide extra information on its bonus pay gap.
What now?
Each company's circumstances will be different, but the important next step is to demonstrate a clear understanding of what is causing pay gaps and committing to actions that, over time, will reduce those.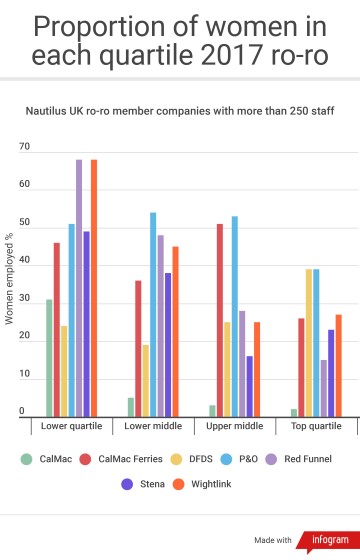 Firms need to address traditional male/female role divisions, the lack of female representation at senior levels and why women tend to work in lower-paid roles. Many are already doing this by promoting STEM subjects for female students at schools and universities to help increase female recruitment; considering work/life balance; introducing flexible working options for both men and women; and supporting women to advance through their careers.
Many companies are starting to ask whether their recruitment processes are biased, or why women are not progressing at the same rate as men or are choosing to opt out and not return to the workforce.
Some are considering, or have set, targets for the number of female applicants, hires and promotions or women in executive positions.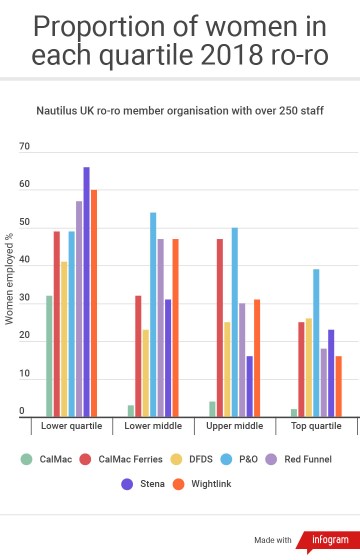 In early 2018, the industry body Maritime UK launched a Women in Maritime Taskforce. This led to the creation of the Women in Maritime Charter, which offers a framework to challenge companies to make progress on diversity, and will be supported by a suite of resources to help companies realise their own internal targets for, among other things, closing the gender pay gap. Nautilus is a member of Maritime UK and takes an active role in the Women in Maritime Taskforce.
In addition, the Nautilus Women's Forum provides an opportunity for female members to engage in discussions on the specific challenges facing women in maritime.
To find out more about the gender pay gap and the requirement to file a report, go to www.gov.uk and search for gender pay gap reporting.
---
Tags