It's estimated that around eight million tonnes of plastic waste ends up in our oceans each year. MICHAEL HOWORTH reports on plans for a special vessel that will help to clear it up…
It looks a lot like a superyacht – and the self-powering, 70m, tri-deck cleanup vessel Ocean Saviour certainly aims to perform like a superhero.
The £40m vessel has not only been designed to pick up as much as five tonnes of plastic waste from the seas each day, but also to convert the debris into a synthetic gas that will provide its power.
This pioneering project is the brainchild of Richard Roberts and Simon White, founders of TheYachtMarket.com – an internet-based company, launched in 2003, with a database that lists boats for sale.
Compelled by the need to do something to tackle the extraordinary plight of our oceans, they began throwing around ideas with some of the world's top naval architects and yacht designers, in an attempt to look at new ways to bring together technologies to tackle the problem.
A few short months later, the Ocean Saviour project has started to take shape, and is working with several highly regarded organisations and notable figures from across the global marine industry.
The designers agreed that all technological advances in alternative energy technologies should be incorporated where possible, but not at the expense of the overall appeal of the design. It is planned that solar power panels and multiple, small wind generators will be incorporated into powering ancillary systems.
A large-scale catamaran was recommended by the design team as the most economical and stable option on the water. The open-plan lower deck will be one of the main working areas of the vessel and has been specially designed to allow ventilation, with hinged storm shutters offering protection against the weather.
This entire deck is dedicated to plastic removal and industrial-scale recycling. Mid-deck is home to two, 12m containers, which will offer research laboratory facilities or VIP accommodation options and bulk storage area, aft of the crew quarters.
Central to the vessel's design are Manta Collector Array collection systems at the side and front, which will be deployed to draw in plastics. These will then be fed into an onboard conveyor, chopped finely, milled, and processed through an onboard plasma gasification facility, which will destroy it with minimal atmospheric pollution. The product of this pioneering process will then be used to fuel the vessel, making it self-powering.
This compact waste-destruction process was first implemented for marine use onboard the aircraft carrier USS Gerald R Ford, by advanced plasma-processing company PyroGenesis. The US Navy specified the system for the ship in order to have a highly compact means of destroying waste at sea, as an aircraft carrier can be out for many months without coming to port.
It's staggering to think that there are currently more than five trillion pieces of plastic in the ocean, which is having a hugely detrimental impact on our ecosystem and the ocean's biodiversity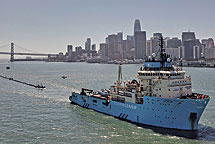 Boom Time
While plans for the Ocean Saviour vessel are still at the design stage, an earlier project to clean up the Great Pacific Garbage Patch is very much up and running.
The Ocean Cleanup – featured in the March 2018 Telegraph – aims to collect floating plastic waste by trapping it in a 'skirt' under a 600m-long weighted boom.
The boom system was designed and built in the Netherlands, and tested in the North Sea with the help of Nautilus members at Boskalis. It was then taken to San Francisco for further work and assembly on the Pacific coast.
On 8 September 2018, the system was launched in San Francisco Bay and towed to a location 240nm offshore by the Maersk Launcher, which has been made available to the project by A.P. Møller-Maersk and DeepGreen, its current charter holder.
After a two-week trial at the first location (pictured), the boom system continued its journey toward the Great Pacific Garbage Patch, 1,200nm miles offshore, to start the cleanup.
---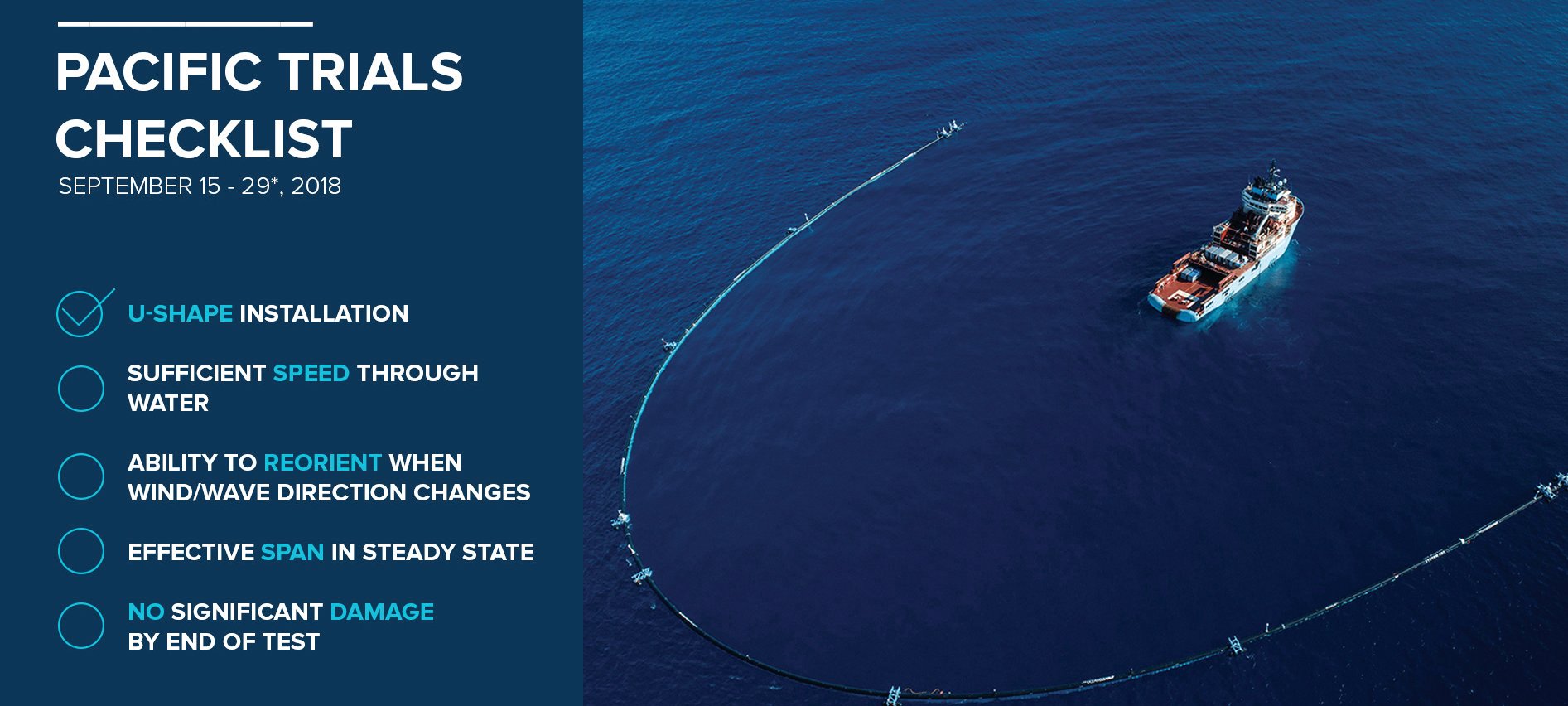 While the vessel's curved front windows echo superyacht design, their purpose is far more utilitarian, as they will lessen the impact of rogue waves, green water and windage, and will offer maximum visibility for the crew.
The wheelhouse is located on the third deck, which will also house the main crew areas and helipad.
A single Ocean Saviour vessel aims to clear five tonnes of plastic per day, so one vessel would take 40 years to clean up the Pacific garbage patch using plasma technology. This could obviously be scaled up if there was more than one vessel in operation.
Announcing the initiative at the Southampton Boat Show, Mr Roberts said: 'This is very much phase one of the project and I look forward to working closely with our partners on its development.
'Our oceans are a vital resource, and it is essential we all do what we can to preserve them for future generations. I'm especially pleased to work with such a talented group of individuals to help make this a reality.'
'It's staggering to think that there are currently more than five trillion pieces of plastic in the ocean, which is having a hugely detrimental impact on our ecosystem and the ocean's biodiversity,' he added. 'It's essential that we remove plastic before it breaks down into microplastics – and, through Ocean Saviour, we aim to help eradicate the ocean of this problem.'
Concept designer Ricky Smith added: 'Ocean Saviour proposes an environmental revolution whereby we, as a community, undertake the immense and urgent task of physically collecting the plastics from the oceans and waterways.
'The Ocean Saviour project is vast and will require input on many levels. This is a crusade for the liberation of our oceans from the waste created by both our brilliant technology and our disregard of the oceans.'
Dr Jan Feiwald, executive director of the Reef Check Foundation, commented: 'Ocean Saviour's project to remove plastic from our oceans should be applauded. As Reef Check monitors ocean health around the world, and sees the impacts of pollution first hand, we support their ambitious approach to solving this problem.'
Round-the-world sailor Dee Caffari said: 'I have seen the sad reality of our ocean's health. Now, having been part of the team collecting micro-plastic data for the first time around the world, we know the issue is much worse than we all initially thought.
'While we still have to address the problem of single-use plastic debris getting into our oceans in the first place, Ocean Saviour would tackle the issue of clearing it from our oceans. We need innovation and new technologies like this to make change happen.'
---
Tags