Almost everyone in the UK maritime sector will have heard of the Dreadnought, but how much do we really know about this famous hospital ship? Peter Coulson, secretary of the Seafarers Hospital Society, uncovers the history of this iconic vessel
The original Dreadnought was a three-decker battleship, launched at Plymouth in June 1801 and the sixth ship to take that name. It weighed 2,111 tons, was 185ft long and carried 99 guns. From 1803-1805 it fought against the French, helping blockade enemy ports.

Dreadnought rose to fame in Nelson's fleet at Trafalgar, where the crew captured the Spanish ship San Juan Nepomuceno in only 15 minutes.

The vessel went on to challenge the Principe de Asturias, causing the death of the captain, the Spanish commander-in-chief, and so became legendary.

Almost 30 years later, in 1831, this noble warhorse was decommissioned and refitted as a hospital ship moored off Greenwich and run by the Seamen's Hospital Society – now Seafarers Hospital Society.

The Dreadnought was the second of the Society's hospital ships, following on from the famous Grampus and succeeded in 1857 by the Caledonia, renamed the Dreadnought as it had become so well-known.

In 1870 the service moved to dry land at the Royal Hospital in Greenwich, and, retaining the name of its famous ancestor, became the Dreadnought Seamen's Hospital. More of that later.
Like the Dreadnought itself, the need for a hospital ship to treat the country's seafarers originated in the Napoleonic Wars (1795-1815) when, after twelve hard years of war Napoleon was defeated and Britons began to rebuild their lives and businesses. All except the tens of thousands of seafarers who had risked their lives at sea, only to be laid off on their return to shore.

In 1815, with peacetime Britain in a trade depression, 125,000 merchant seafarers were laid off, with no unemployment pay, no pension and little chance of finding work. Penniless, homeless and confused, many with sickness brought on by insanitary conditions at sea, these increasingly desperate men roamed the streets of London and haunted the ports of Britain. By the end of 1817 the situation was so bad that the elders of Trinity House established a committee for the relief of distressed seamen and agreed to engage a ship as an asylum for sailors on the Thames.

The cause was taken up by anti-slavery campaigner William Wilberforce MP, who became chairman of the committee and within weeks had persuaded the Admiralty to loan three ships as floating hostels and equip them with iron beds, mattresses, linen and clothes. Word spread, three ships became six and what was supposed to be a temporary measure stretched from months into years.

Caring for those who were sick or dying was clearly a long-term problem, and the surgeon responsible for their care, Dr Bob Blake, argued the need for a permanent base.

The committee agreed, and asked the Admiralty for a larger ship. They were given HMS Grampus, a 50-gun vessel which had been used as a store ship in Chatham. If its work was to become permanent, the committee needed to formalise its own arrangements. And so, in 1821, a new charity, the Seamen's Hospital Society, was set up to administer a hospital for seafarers on the Thames.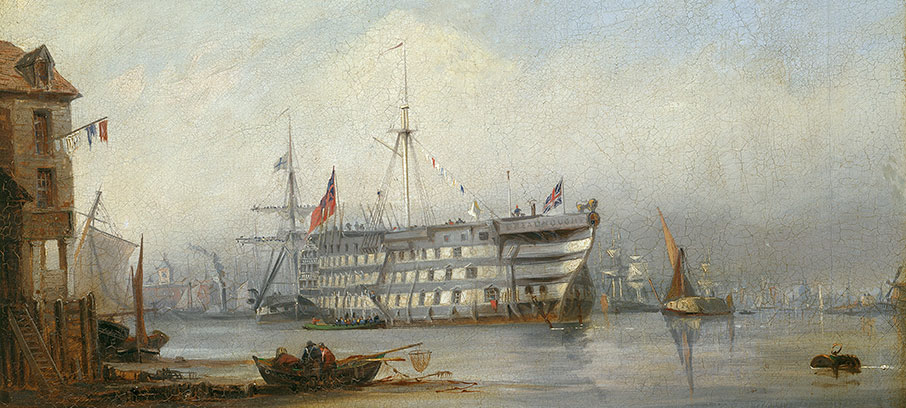 Like the Dreadnought itself, the need for a hospital ship to treat the country's seafarers originated in the Napoleonic Wars of 1795-1815
From its inception in 1821, the Society continued to support the provision of hospital services for seafarers. After moving to dry land in 1870, the Dreadnought became a permanent feature, playing an important role not only in the life of seafarers but also in the wider community.

It was the trail-blazer in the understanding of diseases such as cholera, typhoid and scurvy, which led to the founding of the Hospital for Tropical Diseases; opened a dispensary for diagnoses and medicines, saving the sick from quacks and charlatans; set up a branch hospital at Albert Dock; expanded to foreign shores; and ran an open-door policy which paved the way for the future NHS.

It played a key role in the treatment of seafarers caught up in two world wars and was bombed in the London Blitz of 1940.

When the NHS was founded in 1948, it took over all the facilities for seafarers which had been provided by the Society, and these were gradually subsumed by the new wider health service. But all was not lost.

In 1986, when the Dreadnought Seamen's Hospital finally closed its doors in Greenwich, its work was transferred to Guy's and St Thomas' Hospital, where it remains. Now there is a dedicated Dreadnought Medical Service which ensures that seafarers receive priority NHS treatment with support for its patients from the Society.

Today, the Seafarers Hospital Society continues to support merchant seafarers and their dependants – as well as fishermen and, for certain services, Royal Navy personnel – helping them to get healthy and stay healthy, so they can continue to work at sea or lead a more comfortable life on shore or in retirement. As well as support for Dreadnought patients, the Society provides:
Grants – for emergencies or when money is short, covering anything from stairlifts to washing machines, mobility scooters and respite care to help with funeral costs as well as help with essential debts.
Physiotherapy – free fast-track physiotherapy, provided quickly and locally through a national network of providers.
Seafarers' Advice and Information Line (SAIL) – a specialist Citizens Advice service for seafarers providing free, confidential and impartial advice and information on a wide range of issues, from welfare benefits to housing and employment.
Big White Wall – free access to Big White Wall, a confidential mental health and wellbeing service available 24/7 online, including face-to-face counselling.

Self-help guides – a number of health-related self-help guides, including Get Fit, Look Good, Feel Good, a fitness book for seafarers.
SeaFit – a programme run in partnership with the Fishermen's Mission which provides a range of health and wellbeing services to fishermen in the community, free of charge. This includes access to health trainers, mental health and wellbeing support, physiotherapy and dental treatment.
To find out more about the Dreadnought Medical Service and other aspects of the Society's work today, visit the Seafarers Hospital Society website or email the Society
---