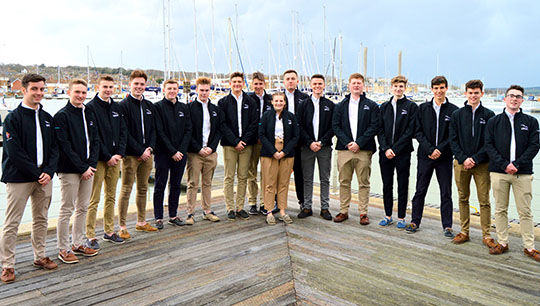 UKSA, the Union's strategic yacht partner based in Cowes, Isle of Wight, held the first of two graduation ceremonies in a bumper year for the centre's Superyacht Cadetship in February.
The cadetship is a unique pathway into the superyacht industry and is structured over five phases to enable 18-25 year olds to obtain Officer of the Watch qualifications for yachts less than 3000GT within four years.
Several prizes were awarded to cadets who had made special achievements throughout their first phase of their cadetship, in front of family members and other guests.
International organiser for Nautilus, Danny McGowan, presented the 'Cadets' Cadet' award to Nathan Gallagher-Whyte, who had been voted for by fellow students on the course.
Mr McGowan said: 'The deep level of pastoral care provided by UKSA to the cadets and other students, and the interests of the staff in the wellbeing of everyone at the centre is to be congratulated.
'Each cadet leaving UKSA now has access to the Union's unrivalled benefits and protections, meaning that they graduate today ready to deal with all the ups and downs of life at sea.'
Rachel Lynch, strategic organiser commented: 'Our partnerships in the large yacht sector are essential for the ongoing professionalism of the industry. We are pleased to see that UKSA continue with our long-established partnership, and we look forward to working with them more closely in future.'
This year's cohort of cadets is the largest number ever graduating UKSA. Of the 34 cadets, 50% received funding in order to complete the Phase.
Funding comes from Seafarers UK, Trinity House, TK Foundation and UKSA.
---
Tags