Education and training
Step change in simulation – a visit to Solent University's new hi-tech learning facilities
18 June 2019

Warsash nautical school was one of the first seafarer training facilities to make use of simulators on its courses. Now part of Solent University, the school is again seeking to lead the way in hands-on learning technology. Andrew Linington finds out more at the opening of Solent's new £7m maritime simulation centre in Southampton
Sir Michael Bibby, president of the UK shipowners' organisation, was having a few problems taking a vessel out of Portsmouth Harbour. Struggling with the azimuth controls, he fought unsuccessfully to prevent it from running onto the shore at Gosport.
Fortunately, Sir Michael was operating in 'virtual' mode. The UK Chamber of Shipping president had been invited to try his hand at the controls after formally opening Solent University's new £7m maritime simulation centre.
The new Southampton-based facilities have been created as part of a £43m investment in maritime education and training at the university – which has included the relocation of teaching from Warsash to Southampton – and supported with funding from the Solent Local Enterprise Partnership (LEP) and a £750,000 donation from the Gosling Foundation.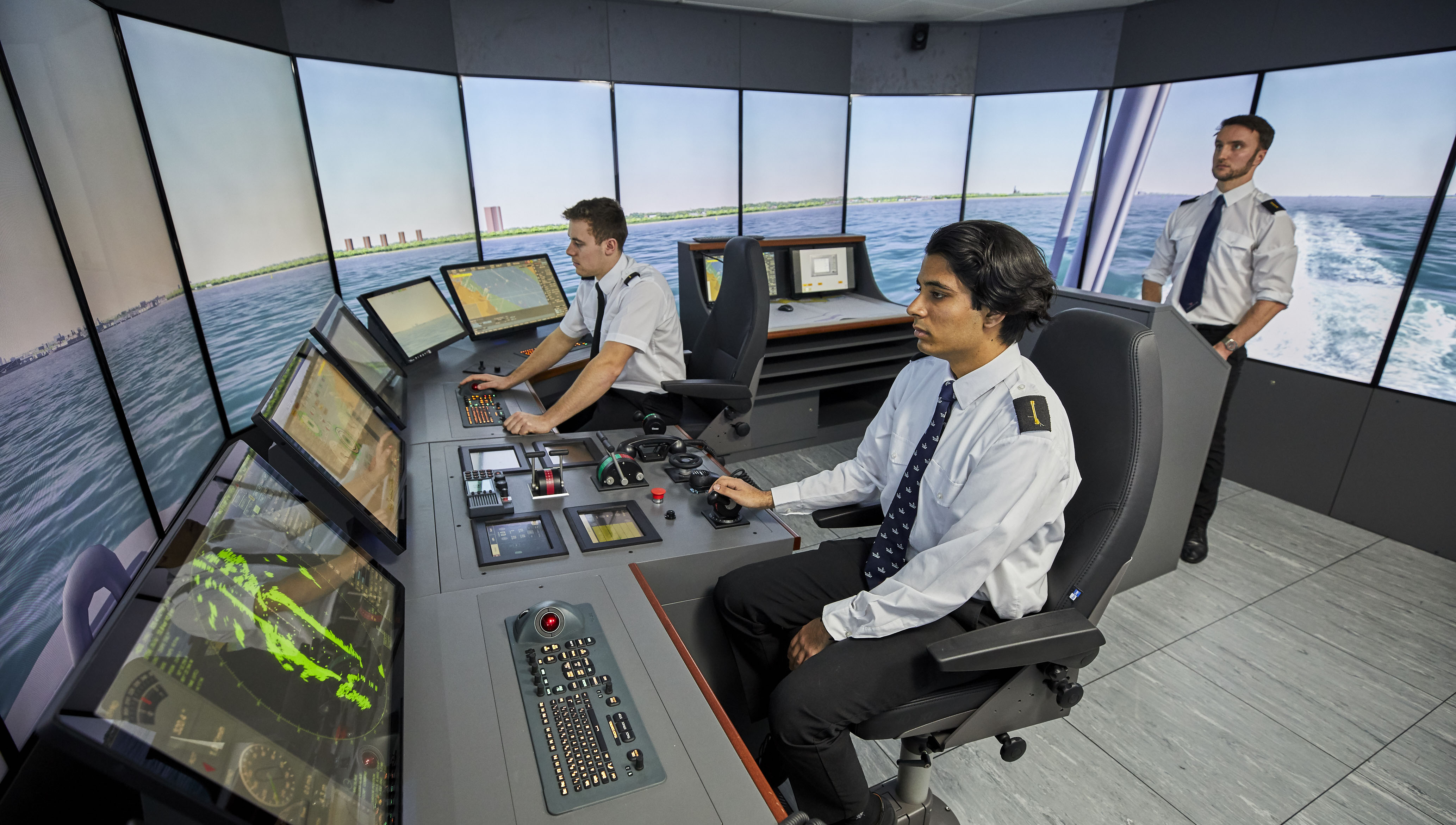 Solent University vice-chancellor Professor Graham Baldwin said the developments reflected a commitment to 'real-world training, of which there is no better example than the work we do in maritime education and training'.
Professor Syamantak Bhattacharya, dean of the Warsash School of Maritime Science and Engineering, said Warsash had pioneered the use of simulators in the 1970s, and the new facilities would build on that heritage to help to meet the growing demand for highly skilled seafarers. 'Digital systems are key to the successful future of the maritime industry, and there is a demand for digital skills across the maritime workforce,' he pointed out. 'The maritime industry is fast evolving and it's crucial that students receive the best educational foundation in their initial studies – and are able to expand on it through continuous learning through their professional careers. This new simulation centre will do exactly that.'
Staff at the centre were quick to highlight the benefits of simulator training, enabling hands-on, realistic and interactive exercises. 'The sense of immersion is really important for cadets, and that is what we are trying to give them with sound, vision and motion,' said senior technician Terry Mills.
Described as the UK's largest and most sophisticated ship and port simulation training centre, the complex features eight full-mission bridge simulators, a full-mission engineroom simulator, more than 50 part-task simulators, high voltage, dynamic positioning and liquid cargo simulators, ECDIS, GMDSS and VTS suites, and four multipurpose desktop simulation and debriefing classrooms.
There are also on- and off-shore crane simulators, and the university has been working with local port operator DP World to customise the training experience.
The centre – which ran its first course in mid-May – can simulate more than 400 different ships and presently features some 140 ports around the world. All the simulators and classrooms are interconnected, with 35km of cabling enabling joint exercises to be carried out by students.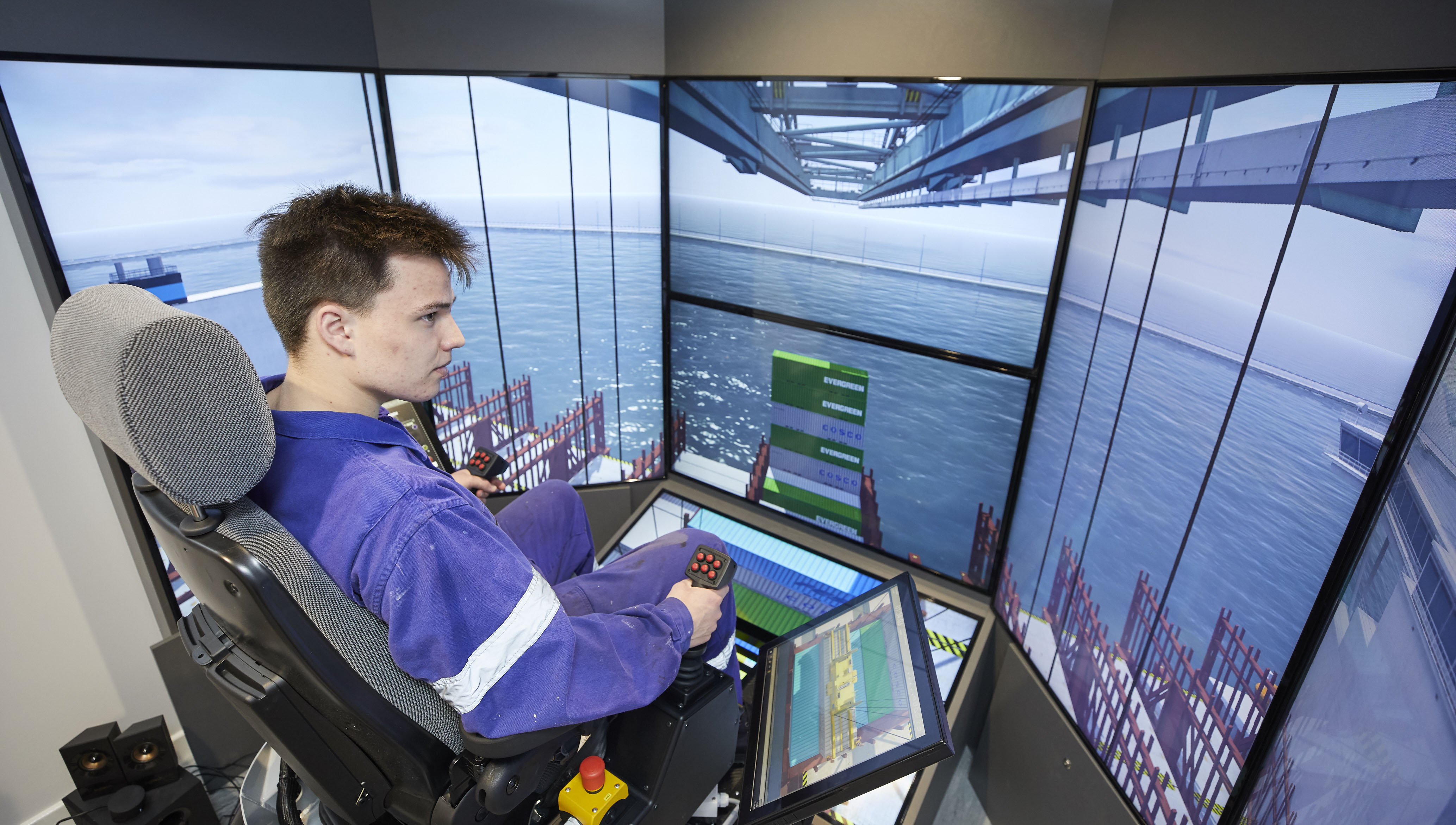 Boasting an array of state-of-the-art Transas/Wärtsilä equipment and software, the centre not only trains cadets but also helps to deliver specialist and advanced courses for masters, officers, pilots, harbourmasters, VTS operators, and ports and tanker terminal staff. It also offers the opportunity for several new specialist training courses, such as dynamic positioning, vessel traffic management and ice navigation.
The facilities include a 'Virtual Shipyard', to allow naval architects and operators to experiment with ship designs before construction or to create digital twins of existing vessels that will enable officers to train in a virtual environment mirroring their own workplace. Students on the university's yacht design and production courses will also be able to use the virtual shipyard and a 60m towing tank to test their designs in an almost unlimited set of environmental parameters.
The simulators can also be used to test new port developments and berths, as well as being used for port-specific marine pilot training.
They will also be used to support the university's research work, including the Project MAXCMAS study of collision prevention regulations and autonomous shipping and the Sea Traffic Management programme to develop a new digital infrastructure for sharing navigational information, as well as further studies looking at navigational safety and the human-machine interface and operations.
Sir Michael Bibby said the facilities would help the UK to deliver some of the key goals set down in the government's Maritime 2050 policy programme to ensure the country remains a major global shipping and seafaring nation.
'Today is not just the opening of a new state-of-the-art development, as exciting as that is,' he pointed out. 'It's the beginning of the next chapter in the history of Southampton as an extraordinary maritime centre. Maritime 2050 is looking to build world-leading clusters of expertise in the UK in target areas from autonomous shipping to green fuels and combine government sponsorship with the talents of our shipowners, ports, service industries, academia and professional services. It is therefore a really important time for the university to be investing in such fantastic facilities.'
He continued: 'We must remain a world-leading cluster of expertise in the new areas of shipping that will develop over the next 30 to 40 years. The Merchant Navy Training Board is working to make sure that we have training programmes that are efficient, relevant and cost-effective, so once people come into our industry they are feeling that their learning is of value and can be applied in the industry.
'The seafarers that will train here are the future of our maritime nation, and this centre should make it better and safer for all,' Sir Michael added. 'Because simulators like this give cadets realistic training, it allows them to practice, again and again, in situations that cannot be replicated in any other learning environment. In that sense, not only is this facility attracting the deck and engine officers of the future, it is providing opportunity for existing seafarers to continue their training. And each of them will become a better, and safer seafarer as a result.'
Professor Bhattacharya said the centre will keep seafarer training at Southampton at the cutting-edge. 'As training periods onboard get reduced – and they certainly have since my time – we, as training providers, have the obligation to ensure that through simulation we are able to fill the gap and maintain the UK's position and Warsash School's position in the global market and continue to produce the most sought-after officers in the world,' he added.
---
Tags