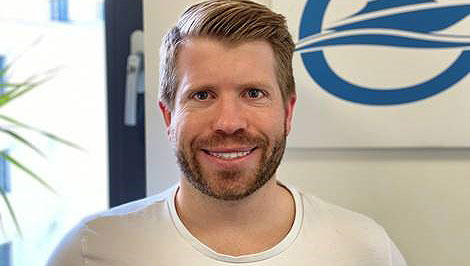 YotSpot founder and director Steve Crawford is interviewed as part of a series of profiles of Nautilus strategic yacht partners. Launched in 2010, the online hub brings captains, crew and employers together for jobs, sailing opportunities, training and much more
Based in Southampton, Yotspot has over 45,000 registered crew with 10,000 jobs advertised each year by yachts, management companies and recruitment agencies. It has a searchable database of over 6,000 maritime courses.
What challenges does the industry face over the next five years?
Artificial Intelligence (AI) is going to play an increasingly important part in the maritime industry over the next five years.
Initially, I believe we'll see a rise in automated supply chains within the commercial sector (e.g. cargo vessels, tankers), but a demand for autonomous shipping is on the horizon too.
It is not completely unfathomable to see a future where cargo ships operate with only a skeleton crew onboard (e.g. only engineers and security personnel) with an additional pilot deck crew joining just before the vessel docks.
How will AI affect the yachting Industry?
Because yachting is such a personable industry, it's difficult to see a time when AI would completely replace a captain, for example.
That said, I do think it might ease flag state crewing requirements in the future with AI playing a vital role. For example, we may eventually feel comfortable leaving a yacht on autopilot (with all crew off duty during a night passage) with an anti-collision avoidance system (AI) running the bridge.
Whether or not we'll have full confidence in such a system remains to be seen, but the future is exciting.
What opportunities do you see for seafarers in the yacht industry?
The future is looking bright for seafarers within the yachting industry with high demand for qualified crew as the industry expands. Yachts continue to get larger with more and more exciting new projects (and toys) being delivered for owners.
This will pave the way for some exciting new opportunities for crew looking to become involved with such projects.
How is the MLC benefiting the yachting community?
The Maritime Labour Convention (MLC) has been extremely beneficial to the yachting industry as it helps set out the responsibilities of shipowners to their seafarers.
It has also helped inform seafarers of their assured level of protection whilst under employment (standards of living, working conditions etc), and their rights and entitlements under the MLC.
It has enabled them to make informed decisions on whether to work on a ship registered with a country which has not ratified the MLC. Crew should sign a seafarer employment agreement (SEA) to ensure maximum employment protection and ascertain these documents are MLC compliant before signing onto a new vessel.
How have the amendments concerning bullying and harassment had an effect?
It's difficult to tell as I've not seen the statistics. However, the very nature of bullying and harassment can often mean it goes unreported or covered up through fear of reprisal, especially if it's the senior crew doing the bullying.
That said, the amendments to the MLC do (in my opinion) make it much easier for someone to now report by following the onboard complaints procedure as outlined by the SEA.
Crucially, this complaints procedure allows crew to skip steps if they do not feel they will get fair treatment and want to go to a higher authority. Of course, if this doesn't yield success you can speak with the recruitment agency who placed or seek support from Nautilus.
Any tips for organisations thinking of partnering with Nautilus?
As a partner Nautilus can help you facilitate open dialogue with crew, agencies, employers, owners and regulatory authorities.
With shared beliefs for improving this maturing industry into the future, I can't recommend them enough.
---
Tags